Richard, in a nutshell
:
Richard David Parks (born 14 August 1977) is a former Wales international rugby union player turned Extreme Environment Athlete. 
Richard now spends his life taking on expeditions and challenges, which push the boundaries of human performance.
As a professional rugby player and back row forward, Richard made a name for himself as a hard and prolific tackler, representing Wales and The Barbarians. During his professional career spanning 13 years, he played for Pontypridd, Leeds, Perpignan and Newport Gwent Dragons. He won the Principality Cup with Pontypridd and The Powergen Cup with Leeds.
Following his forced retirement from rugby, Richard made history twice with two incredible feats of endurance; a world first expedition called the 737 Challenge, where in July 2011 he became the first ever person to climb the highest mountain on each of the world's 7 continents and stand on all 3 poles (the North Pole, the South Pole and the summit of Everest) within 7 months. In January 2014 he became the first Welshman, and the fastest ever Brit to ski solo, unsupported and unassisted to the South Pole.
Utilising both his commercial and performance experience, Richard proudly serves his country as a Sport Wales board member.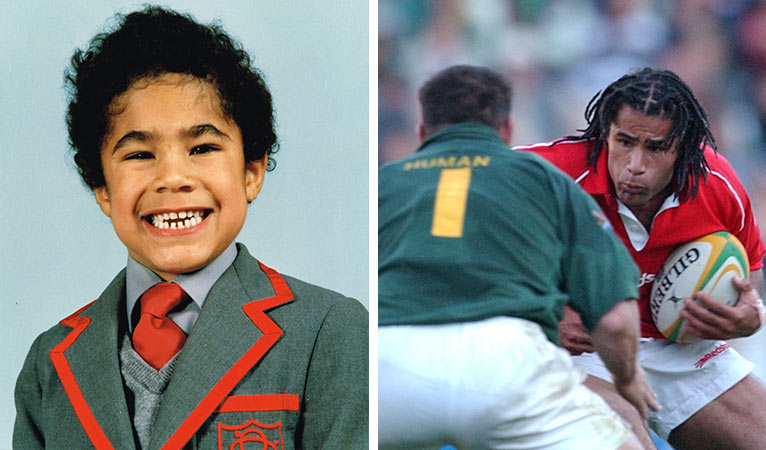 The Early Years
Richard was born on 14 August 1977 in Pontypridd to his Jamaican mother Lee and Welsh father Derek. Richard grew up Newport, Wales and attended Rougemont and Monmouth Schools.
Richard's first passion was motocross, and he began racing competitively from the age of 6. As the financial demands of the sport outgrew his sponsorship he started playing Rugby at the age of 11 and progressed quickly through school and county ranks playing at flanker throughout.
He was selected for Welsh Schools at under 16 and 18 levels, followed by a brief spell with Newport RFC youth before spending a year studying at Michaelhouse School in South Africa. Richard represented the rugby first team at Michaelhouse whilst he studied A-­level chemistry in order to gain entry to Cardiff University's School of dentistry.
Whilst in South Africa, Richard was invited to join the Natal Under 19's academy but this would have meant committing to attend University in South Africa. Richard always had the desire to play for Wales, therefore he chose to return home to commence a professional contract up with Newport RFC, whilst studying dentistry at Cardiff University. 
In his first year at Newport RFC (1996-­‐97) he was selected to play for the Wales sevens in Tokyo, Japan and in his second year at the age of 20 yrs, Richard was called up to train with the Wales senior team. At the end of this season (1997-­‐98) Richard was voted the club's most promising player of the year winning the Arthur Boucher Award.
Richard's 3rd season with Newport RFC saw him struck down with injury. He missed most of the season after suffering a stress fracture of the spine. Breaking his back resulted in Richard missing the opportunity to gain Welsh honours at an under 21 level.
After taking longer to recover than anticipated Richard was released from his contract at Newport RFC after 62 appearances and finished the season playing university rugby for Cardiff Meds RFC.
---
THE TURNING POINT
Despite this being one of the lowest points in his career, ironically, it was to be the turning point too. After winning the player of the tournament for the Cork pool of the The Times European University Rugby competition, Richard was recommended to the then coach of Pontypridd RFC (Dennis John) by the Cardiff Meds RFC coach (Huw Davies) and doctor (David Pemberton) at the time. John drafted Richard in to play the last game of that season for Pontypridd to cover an injury hit squad.
A strong performance earned him a second shot at professional rugby.
---
PONTYPRIDD AND PLAYING FOR WALES
Richard joined Pontypridd RFC for the following season. At this time, Pontypridd were one of the strongest clubs in Wales, however during the summer of 1999 when he signed, many top players and the existing coach Dennis John left, resulting in an inexperienced squad of players and a young coach in charge. This first season ended with Richard rupturing his bicep off the bone requiring surgery to reattach it.
Halfway through his second season, in 2001, a new coach and director of rugby were brought in to turn the misfiring team around. The change in management saw the following 2001-02 season bring much success for Richard and the young Ponty team.
That season Richard represented Wales sevens in the Rugby World Cup Sevens in Argentina whilst Pontypridd and Richard went on to beat Llanelli to win the Principality Cup, and loose narrowly in the final of the Parker Pen Shield competition to Sale Sharks.
That summer, six of the Pontypridd squad, including Richard, were called up to represent Wales on a tour to South Africa. It was against South Africa in the Freestate Stadium, Bloemfontein that 24-­year-­old Richard earned his first full international cap on 8th June 2002.
Richard became the 1001st player to represent his country Wales.
During the next season Richard was selected in the Six Nations squad although not capped, and for the autumn international series where he gained his second cap against Fiji.
In the summer of 2003 Richard was selected in the preliminary World Cup squad and earned 2 more caps with games against Scotland and Ireland, although he missed out on final section to the world cup in Australia.
---
CELTIC WARRIORS
In 2003 the WRU created the regional rugby by amalgamating the clubs, electing to reduce the then top tier of Welsh professional rugby from nine clubs into five regions.
Richard, and Pontypridd RFC, found themselves in a partnership with Bridgend RFC, forming the Celtic Warriors, representing the whole of the South Wales Valleys region.
Richard played the whole of that new look 2003-­‐04 season out of position at number 8 due to injuries in the squad. Arguably the most successful team on the field that season, the Warriors were the only team to beat London Wasps that campaign, who ultimately went on to win the Heineken Cup. Richard won the man of the match award for that game.
The team was disbanded at the end of the season, and Richard left Wales to join head coach Phil Davies at Leeds Tykes.
---
LEEDS & PERPIGNAN
After a difficult start to the 2004-05 season tearing his groin, which needed surgery, Richard became an influential member of the Leeds squad and was at times named as vice captain. 
Midway through the season and at the beginning of 2005, Leeds were bottom of the Zurich Premiership and some way adrift of their rivals. Despite the threat of relegation they staged an incredible second half of the season fight back, going unbeaten and making it to their first ever Powergen Cup final in 2005. Richard and the Tykes defeated Bath at Twickenham by 20-12 to claim their first ever trophy, making club history.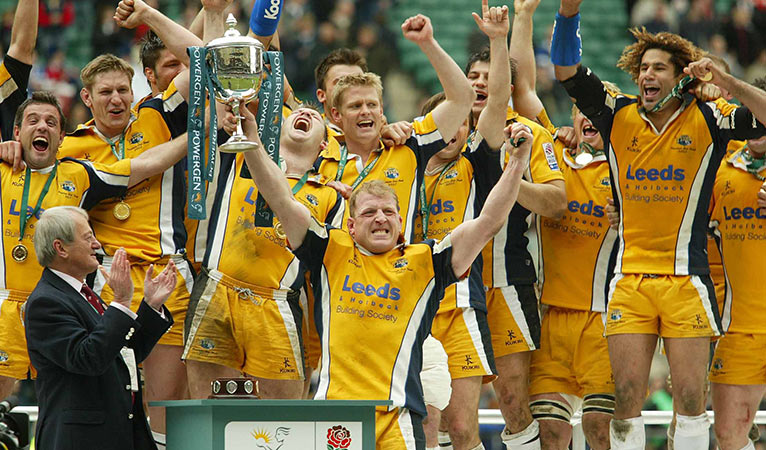 Following the cup win they avoided relegation beating Bath RFC at the Rec, only a week after beating them in Twickenham. Leeds finished eighth that season (2004­‐05) following some last weekend premiership mathematical equations, recording the highest placing in the Yorkshire clubs history.  
The following season (2005‐06) saw the Tykes lose their first eight games in three different competitions. Following more injuries Leeds were relegated that year exactly a year to the day after they claimed the Powergen Cup. However, Richard had one of his best Heineken Cup campaigns, which led to him being recruited by USA Perpignan, France.
Richard spent a year in Perpignan, with ambitions of playing for the best club in Europe and playing for Wales again but simply wasn't getting enough game time. Playing for Wales again was his main ambition, so Richard decided to return to Wales for the 2007-­‐08 season and sign for Newport Gwent Dragons.
---
NEWPORT GWENT DRAGONS
Richard returned to Wales with a bang, with two man of the match displays in his first two games. The first half of the season saw Richard back to his best forcing himself back into contention for the Welsh squad.
On Boxing Day that year, against Cardiff Blues, he tore his medial knee ligaments. This marked the beginning of Richard's injury problems, which ultimately led to his forced retirement from rugby.
Early in his second season with the Dragons (2008-­‐09) Richard injured his shoulder against The Scarlets.
Unaware of the severity of the injury and with conservative treatment, Richard continued to play damaging it further which required an operation over Christmas to repair his shoulder. He returned to action at the beginning of the year but his shoulder was irreversibly damaged and continued to deteriorate. During his last game against Connaught in Newport he suffered a further injury to his shoulder, which required a second operation that year and forced him to retire from rugby. He had made 30 appearances for the Dragons.
Richard retired from rugby on 26th May 2009 aged 31. 
---
LIFE AFTER RUGBY
This brutal blow forced Richard to reassess his direction in life. Lying in bed following his second operation to repair his shoulder and whilst reading Sir Ranulph Fiennes' book, Richard's imagination was captured by the mental, physical and technical challenges of performance in extreme environments. This somehow became intertwined with a phrase from his Nan's funeral "The horizon is only the limit of our sight". With the courage and inspiration to pick himself up, channelling his energy into something positive, Richard discovered the 7 summits; The highest mountain on each of the world's continents.
Immediately as he had learned of them, he had decided that he was going to climb them.
Alongside mountaineering expedition world leaders Jagged Globe, Richard developed the idea of a new world first challenge – The 737 Challenge.
Using his life savings, insurance policy and selling many of his belongings, Richard funded over 18 months of training and expeditions in order to prepare for his world first challenge. He spent almost 10 of these 18 months actually in a tent on an expedition amassing the experience and skill sets required to not just complete the project, but to complete it safely and with integrity.
Through this development period, Richard met many people and companies that would play vital cogs in the project, some forming his 737 Challenge Team. He is incredibly grateful to so many for their support, belief and friendship.
---
737 CHALLENGE
7 Summits, 3 Poles in 7 Months. A world first.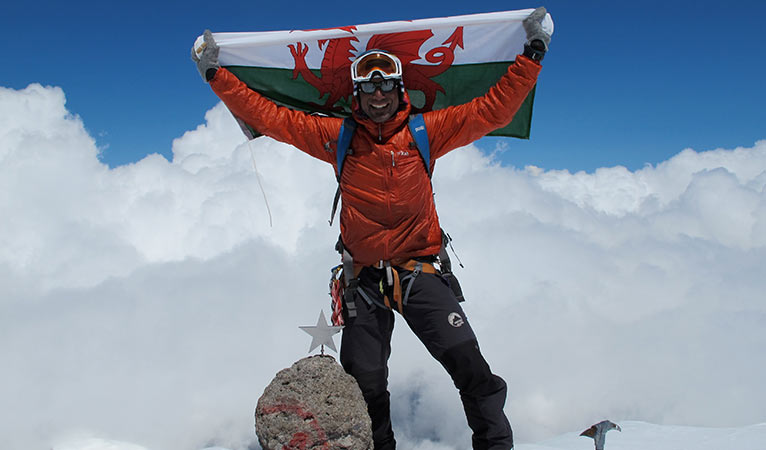 Richard Parks' 737 Challenge was a pioneering 7 month race to climb the highest mountain on each of the world's continents and stand on all 3 poles (the North Pole, the South Pole and the summit of Everest, which is widely regarded as the world's 3rd pole).
In December 2010, after 18 months of gruelling training and preparation, Richard began his bid to complete his 737 Challenge.
He left Cardiff, UK on 12th December 2010, 100 years after Robert Falcon Scott's 1910 Terra Nova expedition set sail from Cardiff.
Richard was joined on parts of his 7 month expedition by Olympic rower Steve Williams OBE and Marie Curie nurse Jan Suart.
On Tuesday 12th July 2011 Richard Parks made history becoming the first ever person to climb the highest mountain on each of the world's 7 continents and stand on all 3 poles (The North Pole, The South Pole and the summit of Everest) within the same calendar year, completing this feat in under 7 months.
His record setting 737 Challenge was completed in 6 months, 11 days, 7 hours and 53 minutes and raised over £320,000 in aid of Marie Curie Cancer Care, created 63 million opportunities to see (the number of times people read, watched or heard about the challenge) and culminated in a BBC Wales four-part documentary (which has since been sold worldwide). The 737 Challenge produced the advertising value equivalent of a campaign worth over £3m to Marie Curie. 
---
2013 – PREPARATION FOR ANTARCTICA SPEED RECORD EXPEDITION
R&D EXPEDITION TO THE SOUTH POLE 
---
ANTARCTICA SPEED RECORD
The fastest Brit in history to ski solo to the South Pole.
On 4th January 2014 Richard became the fastest Briton in history to ski solo, unsupported and unassisted from the coast of Antarctica to the South Pole. He also became the first Welshman in history to make this epic solo journey.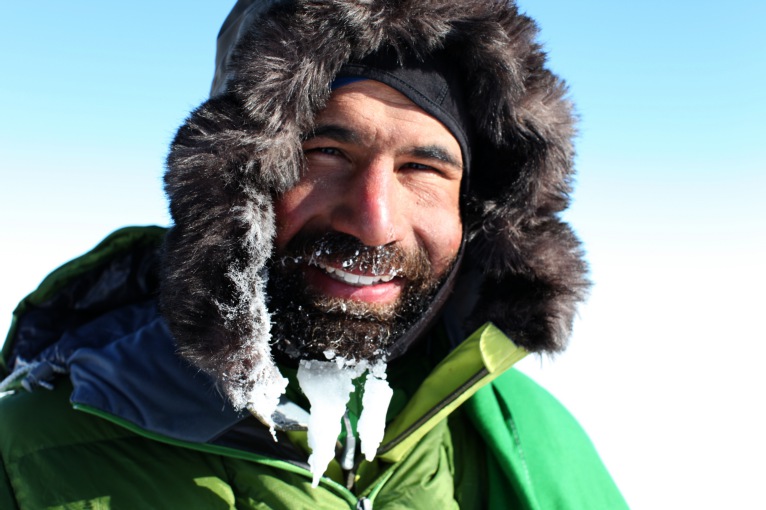 He completed the 1150km/715m solo expedition from Hercules Inlet, on the geographical coastline of Antarctica, to the South Pole in 29 days, 19 hours and 24 minutes, setting a new British record and taking 9 days off the existing British record. He also set the second fastest time in history. 
Throughout his solo expedition, Richard self-filmed for a Channel 5 documentary series following the expedition and three training challenges which formed his year of preparation. The legacy objectives of this expedition were science and education, with Richard recording pioneering neurocognitive data as well as physiological data working with his expedition partners.
---
SPORT WALES AND BEYOND THE HORIZON
Building upon the relationship that he has with Sport Wales as an athlete, basing his Antarctica training out of the Cardiff Institute, Richard was named as Team Wales' Attaché for the Glasgow 2014 Commonwealth Games. His role as part of Team Wales' HQ team, based in the athletes' village, was to support the athletes, staff and dignitaries as part ambassador and part mentor. Richard is incredibly proud to have been a small part of Wales' most successful Commonwealth Games team, bringing home 26 medals. His proud relationship with Sport Wales and service to his country then continued with him serving two terms as Board Member.
September 2014 saw Richard launch his first book Beyond the Horizon published by Sphere, an imprint of Little, Brown, and is an honest and personal insight into his journey from professional rugby player, through career ending injury, to extreme environment athlete. Beyond the Horizon is a tale of redemption and astonishing endurance, set against the backdrop of the most extraordinary locations on Earth.
---
HOBBIES AND HOME LIFE
Richard and his family are based between Cardiff and London when he is not on expeditions.
One of Richard's passions is motorcycles and he loves watching MotoGP. His passion of bikes started at the age of 6 when he used to race motorcross for the South Wales schoolboys scramble club and the Seven Valley schoolboy scramble club. He raced bikes until the age of 11 when he started playing rugby.
Cycling is a lifestyle to Richard, as well as being a key component of his physical training. He loves touring holidays on his bike, watching bike racing, long training rides of just popping into town. He was an Ambassador to the 2014 National Road Championships in Monmouthshire.
When Richard is not flying his Welsh and Union flags in the furthest corners of our planet, he loves nothing more than time outdoors with his fiancé – Jo, son – Fred and Mum and Dad – Lee and Derek. He also has 2 brothers and 2 sisters. His sister Debbie lives in the US and his other siblings Kathryn, Andrew and Graham live in Wales.