Extreme Wales with Richard Parks - Series 2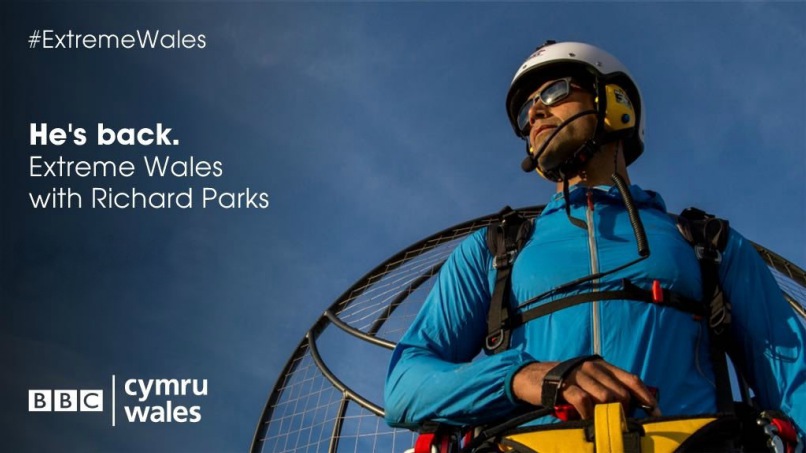 Following the success of BAFTA

Cymru 

nominated series one, Extreme Wales with Richard Parks returned to our screens in 2017.
Richard was back with three more adrenaline-filled adventures in Wales, tackling the most extreme environments that his homeland has to offer and showing off its most stunning and wild landscapes.
First Broadcast:
Wednesday, September 13th 2017 - Episode One: Extreme Coast
BBC One Wales, 7.30pm
Wednesday, September 20th 2017 – Episode Two: Extreme Cycle-trek
BBC One Wales, 7.30pm 
Friday, September 29th 2017 – Episode Three: Extreme Skies
BBC One Wales, 7.30pm
This series was repeated on BBC Wales.
Network Broadcast:
Friday 18th May 2018 – Episode One: Extreme Coast 
BBC Two, 7.30pm
 
Friday 25th May 2018 – Episode Two: Extreme Cycle-trek
BBC Two, 7.30pm
 
Friday 1st June 2018 – Episode Three: Extreme Skies 
BBC Two, 7.30pm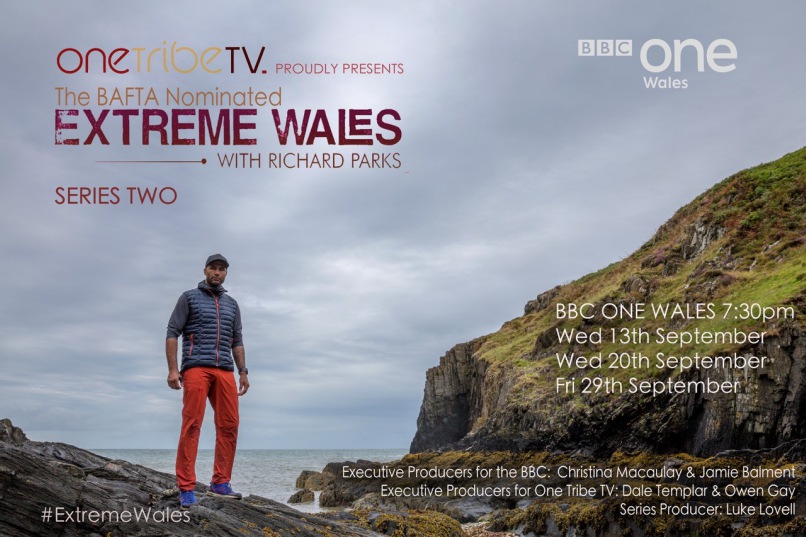 ---
Richard Parks on Everest
Richard Parks on Everest followed the journey of Richard's 2016 Expedition - Project Everest Cynllun.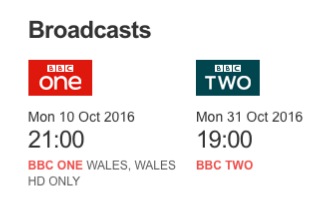 The hour long documentary followed the ups and downs of Richard's research expedition on Everest, which used extreme altitude to explore the mechanisms underpinning cognitive decline, psychological resilience and the corresponding link to dementia.
Richard's aim was to become the first person in history to collect a blood sample and muscle biopsy from the summit of Mount Everest. He also planned to climb the highest mountain in the world without using supplemental oxygen.
The documentary gets under the skin of Richard and his team's preparation, acclimatisation and expedition, showcasing the complexities of performing and conducting medical research on the world's highest mountain.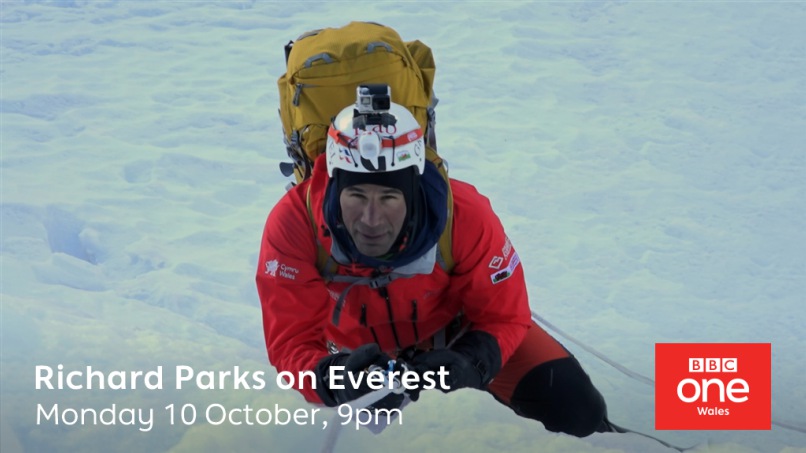 ---
Extreme Wales with Richard Parks - Series 1
The three-part series aired from Monday 12th September 2016 at 7.30pm on BBC One Wales over 3 consecutive weeks and was also broadcast on BBC Two network over three consecutive days from Monday 7th November 2016 at 7.30pm.
Extreme Wales with Richard Parks followed Richard as he took on 3 adventures battling the wild and wonderful Welsh geography and elements. He created the highest cycle route in Wales from the Brecon Beacons to Snowdon, overcame a fear of enclosed spaces to climb to the deepest point in the UK's deepest cave system, Ogof Ffynnon Ddu, and finally, pushed himself to learn how to kayak on one of Wales' longest and most ferocious rivers, the Teifi.
Throughout each challenge, Richard met inspirational people each with a unique connection to the geography of Wales, and like Richard have embraced the spirit of adventure to enrich their lives.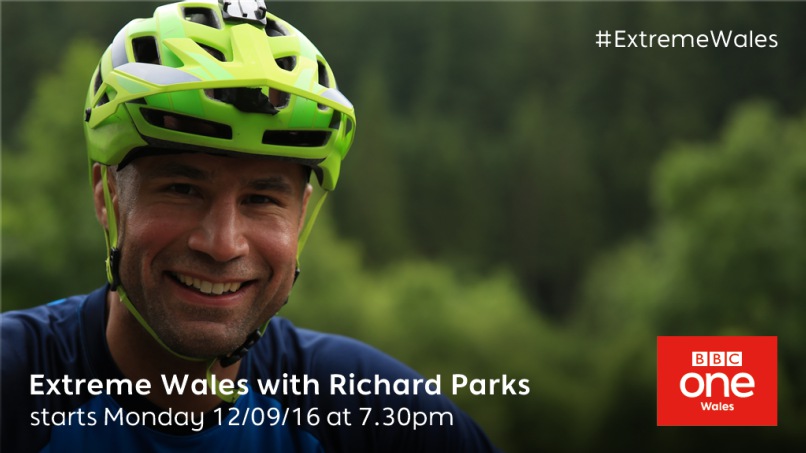 ---
XTREME ENDURANCE: RACE TO THE POLE
In January 2015, Richard became the face of adventure for Channel 5 as they broadcast his latest television series, Xtreme Endurance: Race To The Pole. Viewers were treated to 4 x 1 hour shows following Richard's quest to take on the most arduous physical challenges on the planet. The series followed his brutal year of mental and physical preparation for his solo, unsupported and unassisted Antarctica Speed Expedition and World Record attempt. 
Starting in Nepal, viewers saw Richard race at altitude with some of world's best mountain bikers in the Yak Attack. Then he travelled to the Peruvian Amazon Rainforest for the Jungle Ultra, a monster ultra marathon race that saw him run 5 marathons in 5 days. Next, he headed home to Wales for a double Ironman triathlon in Snowdonia, it's called The Brutal for a good reason. And finally, Richard headed south to Antarctica, one of the most hostile environments in the world, for his race to the South Pole. These events tested Richard to the max, both physically and mentally, and helped redefine our understanding of the physical capabilities of the human body.
EPISODE 1 - THE YAK ATTACK - Friday 9th January 2015 - 7pm
EPISODE 2 - THE JUNGLE ULTRA - Friday 16th January 2015 - 7pm
EPISODE 3 - THE BRUTAL - Friday 23rd January 2015 - 7pm
EPISODE 4 - ANTARCTICA SPEED RECORD EXPEDITION - Friday 30th January 2015 - 7pm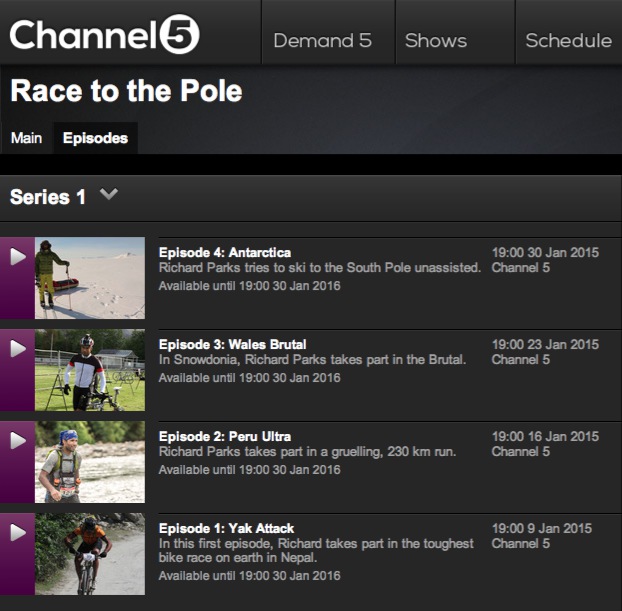 Click here to download the series and episode-by-episode synopsis.
PRODUCED BY

ALSO BROADCAST ON: BBC Earth Asia, RadX/Blue Ant Media – Canada, Top TV/TV Choice – New Zealand, Latvian Television, YLE – Finland, UR – Sweden, DR – Denmark, Nerrit – Greece, Cathay Pacific.
---
RICHARD PARKS - CONQUERING THE WORLD
Richard Parks – Conquering the world was a 3 part (3 x 30 mins) documentary series for BBC Wales which followed the twists and turns, dramas and dangers of Richard Parks' 737 Challenge - an epic 7-month race to climb the highest summit on each of the world's 7 continents and stand on all 3 poles (The North Pole, South Pole and the summit of Everest).
From the wilderness and beauty of Antarctica to the brutal ascent of Mount Everest, from exhaustion to severe frostbite and the drama of falling through deadly crevasses, risking life and limb in order to set a world first - Conquering the World is a journey of the one of the toughest races against the clock, to every corner of the earth.
VIDEO HIGHLIGHTS

PRODUCED BY

ALSO BROADCAST ON: RDS – French Speaking Canada, Red Bull – Germany, Austria.  Discovery – Europe, Africa & Middle East.  Globosat – Brasil.  British Airways. Thai Airways. Etihad Airways.  
BUY ON ITUNES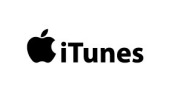 A re-versioned 1hour 15 minute film of Conquering the World is now available on itunes. Click here to buy and download.
---
MAZDA REAL CHALLENGERS SERIES
Richard presented the Mazda Real Challengers series, where he met some of Britain's most iconic figures – men and women who'd defied convention to make life better for themselves and all around them. From Sir Ranulph Fiennes to chef Thomasina Miers, musician Beardyman to Johnson Beharry VC, Richard shared their inspiring stories, outlining the challenges they faced along the way.
Richard then took on a challenge of his own – facing the Olympic track at Lillehammer on a Skeleton bob.
12 films were broadcast across Mazda social media platforms and on you tube attracting more than 4 million views.
PRODUCED BY:
Watch the Real Challengers series on You Tube.
Watch Richard's Skeleton run in Lillehammer
---
RACE OF REMEMBRANCE 
Richard presented an hour long documentary on the "Race of Remembrance" for Sky, which tied together various milestones and stories of ex-servicemen leading up to the inaugural 8-hour endurance race itself at Anglesey race circuit in November 2014. The Race of Remembrance was screened on Sky2, Sky Sports 1 and Sky On Demand over two weeks from 23rd February 2015.
As well as presenting the documentary, Richard also took part in the race itself, which is organised by a charity called Mission Motorsport, who help rehabilitate injured servicemen and women through involvement in motor racing.
Both the Race of Remembrance documentary and Mazda Real Challengers online series, presented by Richard, were nominated for the 2015 Broadcast Digital Awards for best content partnership and advertiser-funded programming.
PRODUCED BY:


Watch the Race of Remembrance trailer here.
Read the news story on the nomination for the 2015 Broadcast Digital Awards.