"Flying over here I didn't think it could be done, but now I see that it can…" Professor Gareth Davidson, Ulster, after he so kindly travelled to the University of South Wales, Pontypridd to coach me to self collect the muscle biopsy. He was lovely, but it was horrific to be honest! Gareth preformed the procedure on my left leg whilst walking me through every step. Most of us will look away from needles, but I watched every detail, taking notes even…and the collection device is in no way a needle, despite what it says on the packaging! It has instructions to 'prime' it and a button labelled 'fire' - I'm not kidding! After the lesson, which resulted in a small bit of my thigh being ripped out, it was my turn to perform a biopsy on my right leg. It went against every instinct but I was successful, psychologically and technically. This was the moment that things changed for me, when Project Everest Cynllun became real. More so than the launch. The biopsy was only a couple of weeks ago, I've since performed several on myself…in fact Nic (Professor Nicola Phillips, Cardiff University aka The Pocket Rocket) is treating my thigh later this evening as I still have some scar tissue which feels like a 'dead leg'.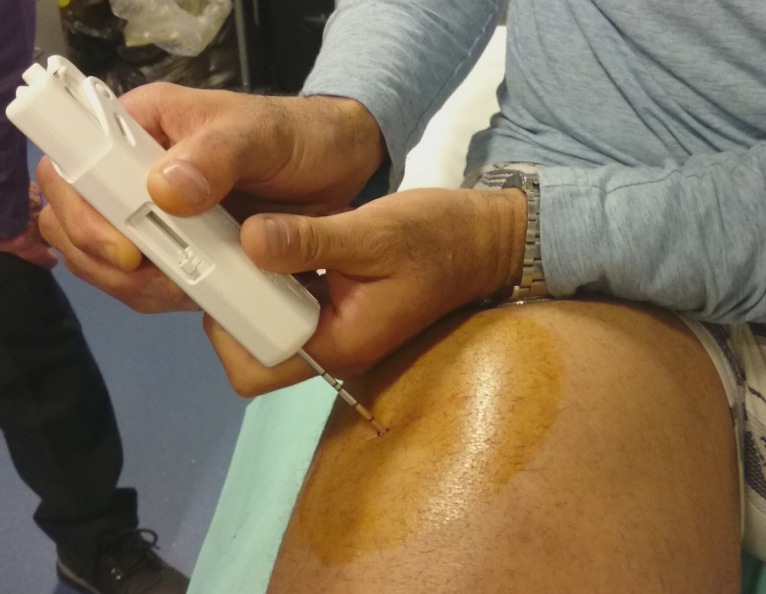 I'm writing this first blog from the Everest Bakery in Namche Bazaar at 3,600m. I'm still following Ana Antón-Solanas' (Senior Scientist at the GSK Human Performance Lab) orders to protect my body fat! The team and I are 4 days in to the expedition en route to Everest Base Camp via Island Peak, but I'll get into my summit strategy nearer the time. Allow me to introduce my team here in the field; Professor Nicola Phillips (Cardiff University, Performance Director), Professor Damian Bailey (University of South Wales, Scientific Lead), Gareth Morrow (Television Producer\Director), Pema Chiri Sherpa (Climbing Partner) and David Hamilton (Jagged Globe Everest Expedition Leader). There are more vital cogs in Project Everest Cynllun, but they're back home in Wales and the UK. As with everything, people are the real change makers and I've been blessed to recruit an incredible team around me.
Nic, Gareth, Pema and Damian.
No matter how much preparation has been done, on this occasion almost 2 years, (and you'll know of my meticulous sometimes brutal preparation) the final few weeks before departure are always an epic part of an expedition as so many things come together. I love what I do, so you won't hear me complaining, but I always wish I had more time with friends and loved ones before I leave. Ben the dog even climbed into my bag whilst I was packing as if to say "take me!".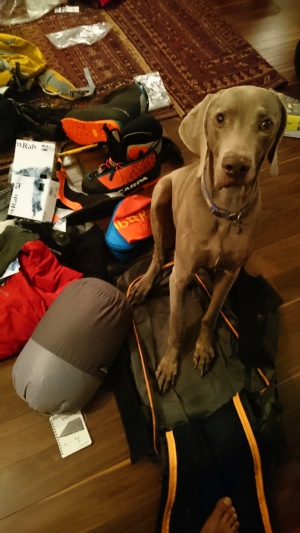 Packing for an expedition is an important part of my process as all the pieces begin to settle in my mind. It's part of how I develop confidence to attempt things that I do. Every item of my Rab clothing and other gear has been carefully considered and chosen for this particular expedition. On all my other projects I use a simple clothing system, very minimal, and regulate my body temperature through exertion. Some days during the Antarctica Speed Record Expedition I only wore a Vapour-rise Alpine Jacket as a single layer in temps as low as -20's. I've had to modify my system this time as the cold could be my biggest enemy and I won't be moving anywhere near fast enough to generate heat, plus the hypoxia of performance above 7,900m/25,919ft. Having experienced the cold during my last Everest summit in almost perfect conditions, I'm preparing for a very different experience this time without supplemental oxygen…although I'm hoping for the best! Unrelenting positivity! Rab design and make their expedition suits in Alfreton, Derbyshire and I've known mine from when it was a swatch sample, before Rachel and the machinists brought it to life. I love that! And I love the latest evolution of the Exped 8000 suit. It's the closest thing I'll get to a space suit, and it's every bit a life preserver. This combined with the new Scarpa Phantom 8000 boots is a great system. You guys might have to wait a little for both as they're not quite in the shops yet! Sorry!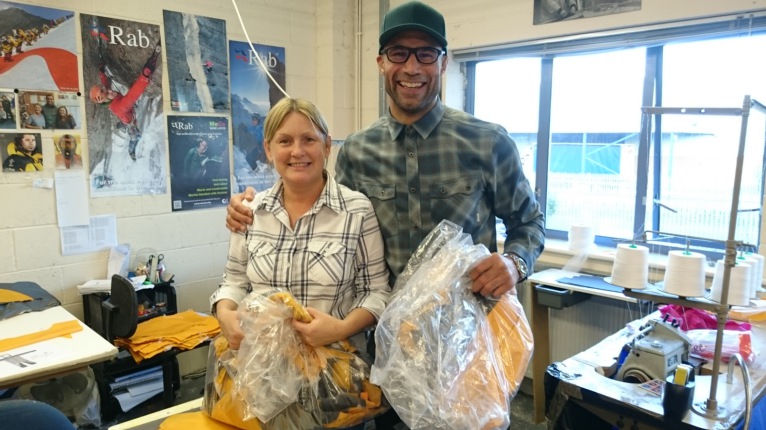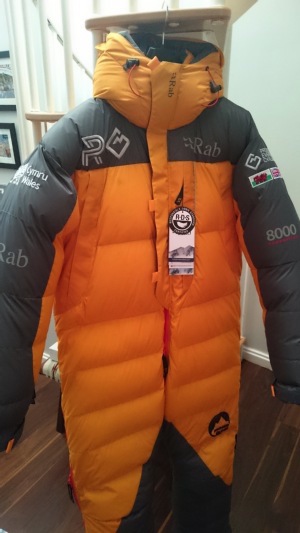 I have practiced self-collecting the muscle biopsy in the environmental chamber at the University of South Wales wearing my suit and gloves, using the zip on the side of the leg to gain access. I've also had a zip sewn into my thermal suit. My Rab primaloft liner gloves have silver thread sewn into the index finger so that I'll be able to perform the cognitive function assessment that the GSK Human Performance Lab and Axon have developed for my Sony Xperia Z3 tablet with the Sony UK Technology Centre. This S**t is actually happening!! I have moments like this often…Having been immersed in the detail for so long, it's a unique balance to maintain a strategic view too.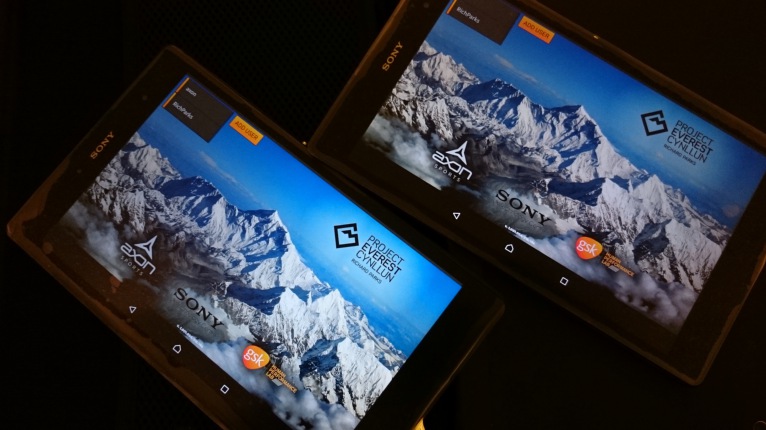 One of my proudest moments was pressing send on the email with the official Visit Wales branding to the guys for embroidery, being endorsed by the Welsh Government and flying the flag an ambassador to Wales' Year of Adventure means the world to me.
Talking of Wales, a couple of days before I left for Nepal I headed to Snowdonia for the day, where we did some filming on Snowdon for my TV documentary (more on that coming soon!). Whilst we were filming in the infamous and wonderful Pen-Y-Gwryd hotel, I was asked to sign the ceiling, alongside the likes of my friend Alan Hinkes' signature and of course the 1953 Everest expedition team including Edmund Hillary. It was a very special and unexpected moment, and a real privilege to sign my name alongside such esteemed climbers.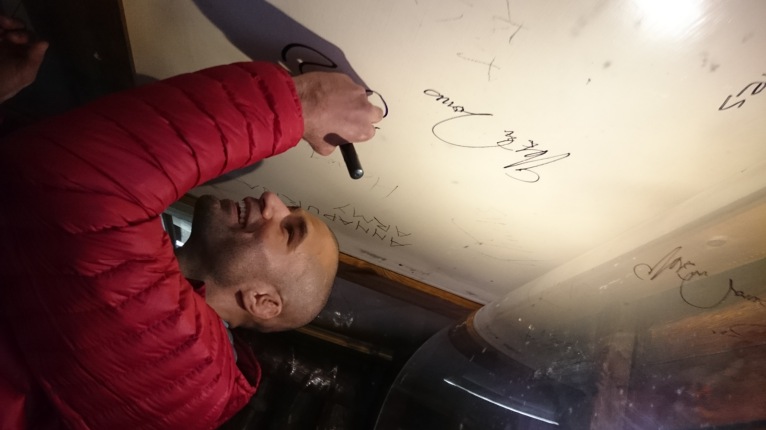 Signing the ceiling in the Pen-Y-Gwryd 
So then, back to my cake! Actually, it's not a cake anymore, I'm on a chocolate doughnut now! The first 4 days have been awesome. Coming back to Nepal is wonderful. Day 1 in Kathmandu sorting the Project Team's food rations for Island Peak and my food above Base Camp on Everest was actually painless! Mostly due to the logistics and packing wizardry by Kerry and the Jagged Globe team in Sheffield. Kerry had packed 6kgs of Jelly Beans into the barrels…I thought she was joking, but apparently not! Ha! I do love a morning in the sun outside to get all OCD! Joking aside it's pretty important to get my food right, so squaring it away was a great feeling.
Each of us in the team have come into this off the back of a busy few weeks, so I proposed that we took until Namche to decompress a little and draw a line under things back home. I also feel it's important to breath where we are in, as It's so easy to miss what's outside the window, so to speak. There is a sense of calm here amongst the Nepalese people, that is so far removed from the world back home. Have I said how much I love Nepal?! It's been heart breaking to see some of the earthquake damage, and this region has been mildly affected. One thing that is so overwhelming is the positivity and resilience of the Nepalese people. I'm proud to be performing here this year.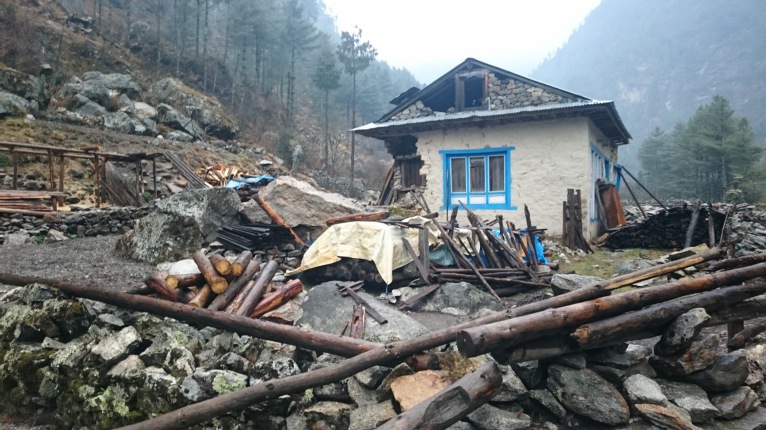 Earthquake damage along the route
On day 2 we flew from Kathmandu to Lukla, which although isn't for everyone was a lovely flight. I was woken up by Gareth the cameraman as we approached the runway! We trekked to Monju at 2,800m where we slept the first night. Damian was so excited that there was wifi in the tea house that he abandoned the decompression rule and worked till midnight! Ha! I've met my 'bottle of pop' match there I think! It's a wonderful (and important) mix of personalities and expertise…it's going to be a tough 10 weeks for us, but an awesome one to be amongst mates.
Day 3 and today…hence the cake, we arrived in Monju. All in good spirits. We're on a different schedule to Jagged Globe's main Everest Expedition, but it was awesome to bump into them again over lunch. Especially David Hamilton.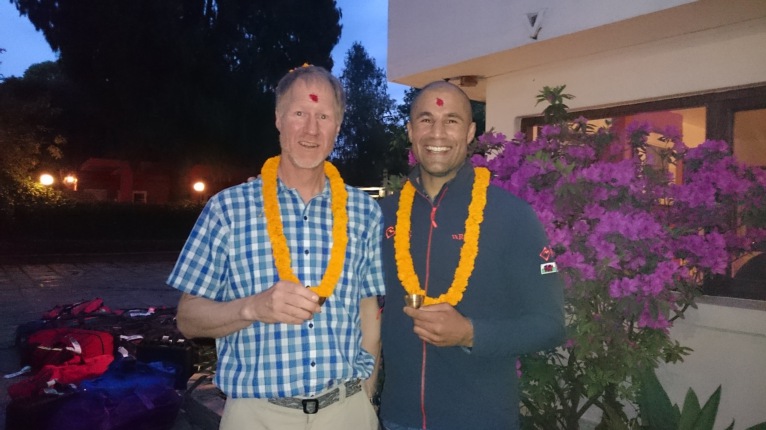 David and Richard in Kathmandu.
David led my first Everest summit during my 737 Challenge and we've crossed paths and worked together in Antarctica since. Along with Jagged Globe director Simon Lowe, David is someone who I trust implicitly and it's awesome to have his expertise here on the mountain.  Today we climbed to the Everest View Hotel just above Namche, although I'm not one to get lost in the views of her. It's pre game for me, although a unique one.
It wouldn't be an expedition without the 'top 3 game' – sometimes this expands to 'top 5'. Today we kicked it off…mine was top 3 meals, Nic's was top 3 chocolate bars, Gareth's was top 3 bond villains…Damian's was top 3 species adapted to hypoxia! Haha! Apparently it's Carp, Sea Turtle and Canadian bar-head goose!!
Nic's going to write the next blog early next week. I wouldn't want you guys getting sick of me, so I'll wish you an awesome weekend and safe adventures. In Wales it's the Big Adventure Weekend. I have to share this with you guys – my dad has embraced the Year of Adventure and my ambassadorial role, so he and my brother Graham are going to Zip World. Awesome! Adventure will mean different things to all of us, but its awesome (and enlightening) whenever we do something for the first time or step outside of our comfort zones. I'll write my next blog from Dinbouche 4,410m/14,469ft when the decompression rule will be over and the science will have begun. Thank you. To all those that have partnered and supported Project Everest Cynllun and for you guys for following me. It's going to be an exciting few months.