Richard Parks to take on the Jungle Ultra in Peru
Richard will now be taking part in the Jungle Ultra in Peru instead of the Vietnam Jungle Marathon next month.
Richard will now compete in his next training event, the 10-day "Jungle Ultra" in Peru from May 24th – 1st June, a week earlier than the Jungle Marathon in Vietnam had been planned.  The Jungle Ultra is another big step towards Richard's preparation for his next world first, currently known as Project X.
The Jungle Ultra is a 10 day event, 5 day ultra marathon race from The Andes to the Amazon featuring 230km of tough jungle trails, mountain roads and village tracks leading their way down from 10,500ft/3,200m in the Cloud Forest to Amazon Jungle below.
Richard stated; "I am really excited to be able to take part in the Jungle Ultra in Peru.  I really enjoyed climbing in South America but have not yet been to Peru so I am really looking forward to the experience as much as I am the actual race."
A TOUGH CHALLENGE
Richard added; "This next step in my preparation for Project X is going to be a tough one.  I have actively avoided running long distances over the past few years to protect my achilles and have been doing a lot of cycling and skiing primarily, so the physical and mental endurance needed in order to compete in the Jungle Ultra is another valuable edition to my toolbox in preparation for Project X."
"The reason why I specifically wanted to test myself in a jungle ultra marathon is because this is a key part of my deprivation training.   Of all the environments I have performed in, the jungle is my least favourite.  It's difficult and will make me pretty uncomfortable.  I have chosen to test myself in an environment that I don't like as this will all help my mental skills and physical toughness for Project X."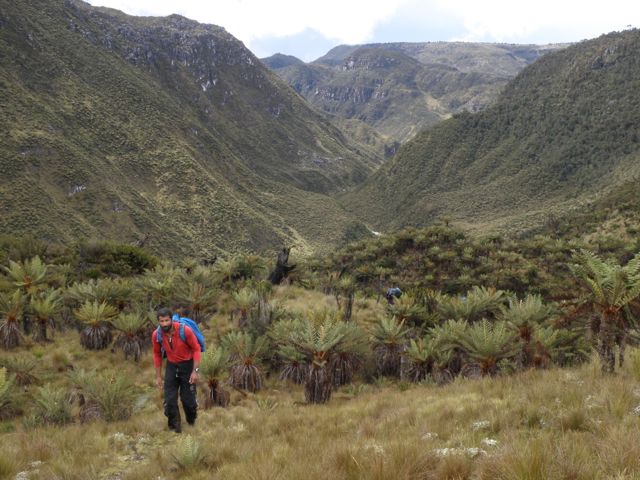 Richard last visited the jungle during the Carstenz Pyramid leg of his 737 Challenge
RICHARD'S JUNGLE ULTRA SCHEDULE
Location: Cuzco, Peru
Terrain: Cloud Forest, Amazon Jungle, Mountain Roads and Amazon Village Settlements.
Mid May – 23rd May: Acclimatisation
24th May - Day 1: Arrival in Cuzco.
25th May - Day 2: Departure for Cloud Forest Base Camp.  This day marks the 2-year anniversary of Richard summiting Mount Everest during his 737 Challenge, on the eve of Everest's 60th Anniversary, which is on May 29th this year.
26th May - Day 3: Race stage 1: Cloud 9
Start time: 7:30am - Distance 38km
Richard will descend from 9,000ft/2,743m through the cloud forest to approximately 3,500ft/1,057m and checkpoint 1.  He will then climb 1,000ft to reach the mountain road where he will descend all the way down in to the Amazon basin via massive vistas, waterfalls and tunnels to Camp 1 overlooking the Amazon.   Along the way Richard will pass the first settlement of Andean people in the Amazon.
27th May – Day 4: Race stage 2: Amazonia
Start time: 7:30am – Distance 34km
Richard will get his first taste of the Amazon rainforest, using little known or used trails to climb and descend his way through the thick vegetation.
This forest is home to Jaguars, Monkeys, Tapirs, Parrots, Macaws and Peccary to name but a few.
28th May – Day 5: Race stage 3: Logging
Start time: 6:00am – Distance 30km
Richard will leave camp 2 along a creek for around 4km and cross the river to run along extremely tough logging roads after which this stage has been named. He will then enter primary Amazon rainforest along undulating trails until he reaches camp 3 in the heart of the forest.
29th May – Day 6: Race stage 4: The Lull
Start time: 6:00am – Distance 36km
Richard will leave camp 3 through Manu National Park and it's primary rainforest, crossing rivers and creeks along the way.  The terrain is tough with extreme inclines and declines.  This will be his toughest test of the event so far.
30th May – Day 7: Race stage 5: The Long one
Start time: 5:00am – Distance 92km
92km of over 50 river crossings, 1500ft of incline and 20km of thick jungle. There is a cut off camp during this stage for competitor safety, hunting tribes, Jaguar and Black Cayman are just a few of the dangers that lurk in the jungle at night.  For those that make it through on time the finish line awaits in the town of Pillcopata, for those that don't, another night in the heart of the Amazon rainforest stands between them and the end of the race.
31st May – Day 8: Race stage 5 completion or rest & recovery
1st June – Day 9: Depart for Cuzco
2nd June – Day 10: Depart Chile
You can follow the Jungle Ultra on Twitter and Facebook and Richard will also be blogging from the event.  You'll be able to read his blogs here at www.richardparks.co.uk and follow his progress on Twitter and Facebook.
Jungle Ultra pics courtesy of Beyond the Ultimate & Martin Paldan