Richard looks back at the Yak Attack
Hi Guys.  I know this is overdue but I have been pretty frazzled over here since I got back from Nepal.  Time for my blog on the Yak Attack….
On Day 1 of the Yak Attack all the riders assembled at the Kathmandu guest house and it was like my first day at school again.  I was super, super nervous!  I had so much excitement, doubt and anxiety all at the same time, I felt really mixed.  It was just 4 weeks since I was completely alone in Antarctica and in 3 weeks of recovery before the race, I had worked together on an intensive recovery programme with Nicki Phillips, my physio out of Sport Wales, but I was still about 8kg underweight from Antarctica having already put 8 kg back on. I had done as much as I could to recover, I felt pretty good, not super strong (the one real training session I had before I left home, my back broke down still fatigued) but I had put that negativity aside and I was feeling really positive.  I was also feeling nervous because I had a film crew with me...I'm a private person and the thought of my weakest moments being caught on HD was terrifying! I was so grateful though as they were awesome guys.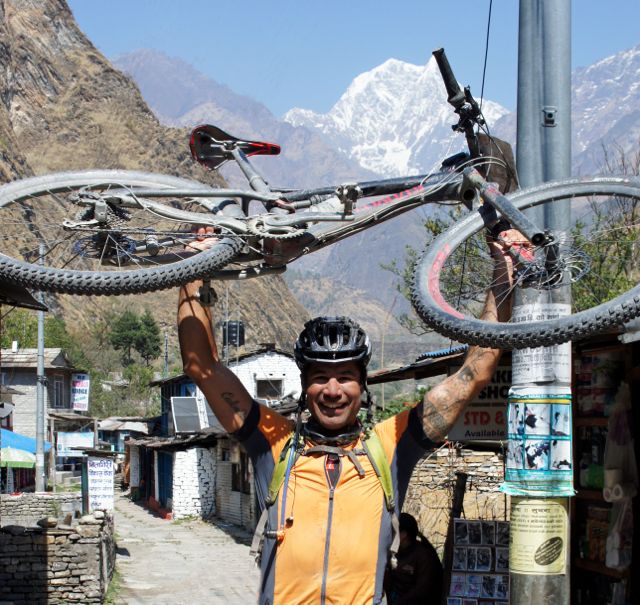 As always, I could only do these things thanks to the support of some incredible people.  For this project I was really proud and grateful to be supported by Specialized UK, Rab and Sport Wales.
I also want to say thank you to Sigvaris UK and Firefly for allowing me to test their recovery products, and the Sony UK team out of the Bridgend Technology Centre.  The Channel 5/Zig Zag film crew were awesome to work with, a really cool group of professionals at the top of their game - we had a lot of fun, I can't wait to share it with you guys when my series is aired at the end of the year, although I'm not so excited about seeing some of my wobbles!
It was tough coming home and leaving again so quickly, but my parents, girlfriend, mates and project manager as always were rocks and super supportive. Thank you.
I want to thank all the Yak Attack riders and support crew for an awesome experience. All my followers on Twitter and Facebook for their constant support, I love our journey.
Finally, for re-building me every day and generally being awesome the little pocket rocket, my physio Nicki Phillips, who is probably lying somewhere in a dark room having a rest right now!
I'm off for a couple of weeks 'active recovery and rest' I'll catch you when I am back. Rich.