Richard Parks back in Antarctica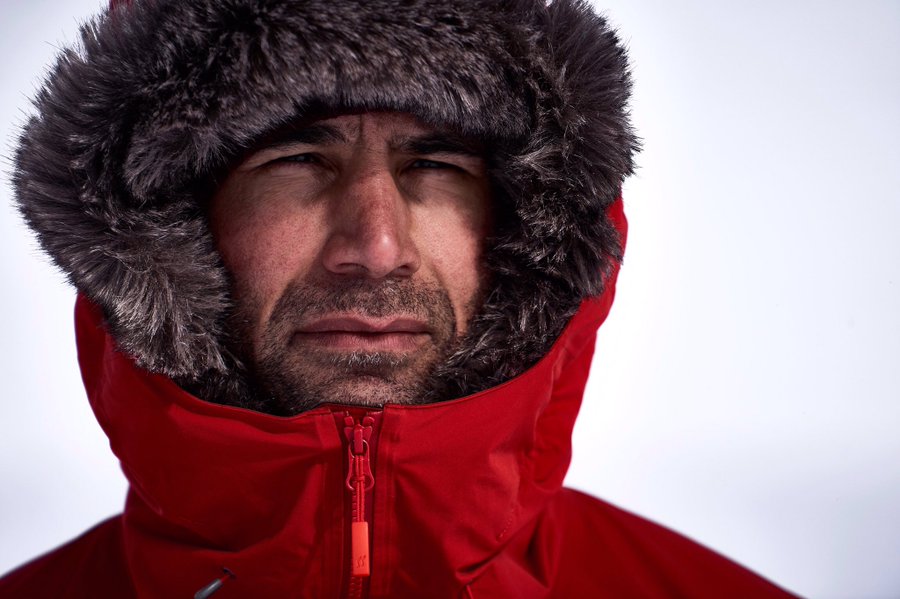 "An expedition to ski solo, unsupported and unassisted from the coast of Antarctica to the South Pole, with two aims: skiing one of the toughest polar expeditions on the planet as fast as possible and in doing so provide learning opportunities for both young people and business leaders, using adventure to inspire them to have the courage to think beyond boundaries." 
Richard's back in Antarctica!  And he is just days away from setting a new British record.  
After the disappointment of last year's expedition ending early, Richard felt like he had unfinished business and was determined to make another attempt to complete the journey from Hercules Inlet, on the coast of Antarctica, to the South Pole.  This involves skiing 1,150-km (715-mile) solo, unassisted and unsupported as fast as possible.   
The latest on Team Quest 2020 Antarctica – The British Record is still within reach (10 Jan 2019). 
With the World Record now out of reach Richard's mission is to break his own British record. To do that he needs to get to the South Pole in the next 5 days. The problem is, he only has 3 days of food supplies left. You'll be able to follow Richard's progress on Twitter @RichardParks over the weekend.  
Richard set out from Hercules Inlet on 17 December 2019, carrying 27 days of food.  He was aiming to better his current British record of 29 days, 19 hours and 24 minutes and, if weather conditions were kind, to get close to Christian Eide's world record of 24 days 1 hr 13 min.  Today, Day 24, he has skied around 960km and he has three days' worth of food left.  During the world record Christian averaged 47 km (29 miles) per day, so the pressure is on for Rich to cover the remaining distance before he runs out of food. 
Each day Rich is able to send a few short SMS messages to his family, yesterday he sent "It's deceptively tough going here – super cold and dry.  So close yet so far! But I'm getting closer" 
This year's conditions have involved Antarctic whiteouts, Katabatic winds and some epic Sastrugi thrown in for good measure.  In Richard's podcast about last year's expedition – available here - he talks about the extreme conditions on this type of expedition.  
As always, Richard would like to thank everyone for their support with particular thanks to the founding partners of Team Quest Antarctica - Jones Lang Lasalle, Cardiff Met University, Sony UK Technology Centre, Hiscox Re ILS and Techniquest, for the support they give him.  
He can't wait to get back and tell you all about it!
Summary of the decision to end last year's expedition 
On the 18 December 2018 Richard started an expedition to ski solo, unassisted and unsupported from the coast of Antarctica to the South Pole.  After 17 days of skiing for 492.2km/306miles, he was forced to end this attempt.  
Richard's body was starting to show significant strain following two weeks of pushing hard to keep within touching distance of the solo coast to pole world speed record in some of the worst weather conditions this region of Antarctica has seen in years. Run down, exhausted and in a lot of pain, Richard also had the warning signs of a cold injury in his left foot which caused him to stop skiing on day 14, take a day off and once again stop skiing yesterday, on day 16 of his expedition.  
Following further medical advice from doctors at ALE (Antarctic Logistics & Expeditions) in Antarctica, and discussions with his team, Richard has decided to end his expedition to prevent the risk of further cold damage and a potential frostbite injury and further complications to his health. 
"It's been a difficult decision, my mind was so willing to carry on and make it to the pole regardless of any time I might post, but my body just has nothing left", stated Richard.  
He added: "Obviously I am very disappointed, I am frustrated, but equally this is what I do now and the nature of these expeditions. Part of trying to achieve big ambitions is the uncertainty and hostilities in these environments." 
Richard's latest biography  
Richard is the fastest Briton and the second fastest human to ski solo, unsupported and unassisted to the South Pole. When he completes this expedition, he will have skied over 3700 km (2300 miles) solo, unassisted and unsupported in Antarctica.  Born in Pontypridd, Richard is equally proud to be the first Welshman and, as far as we have been able to research, the first person of colour to complete this epic journey solo, unassisted and unsupported.  Richard has history with world record attempts. In 2011, he successfully became the first person to climb the highest mountain on each of the seven continents and stand on the North and South pole in the same calendar year. But, in 2015, Richard and his team had to abandon his ascent of Everest without supplementary oxygen.  
Being able to work as an athlete is a privilege and Richard has always believed that his expeditions have to achieve a bigger goal than the physical endeavour.  In his book, Beyond the horizon, he courageously spoke of the despair he felt when a shoulder injury ended his professional rugby career in 2009.  He knew he would never play rugby for Wales again.  Learning to climb was Richard's salvation.  Since those darkest of times, Richard has used adventure to inspire others to achieve their potential and, in doing so, his team of individuals and global brands have helped him to achieve the impossible.   
Richard is a former Welsh international rugby player, award-winning author, BAFTA nominated television presenter and has been identified as one of Britain's most promising leaders in his selection for the inaugural Franco-British Young Leaders Programme pioneered by the British and French governments.  
Team Quest is his most ambitious project to date creating a truly collaborative learning partnership between business, education and charity organisations with one of the world's toughest Antarctic records at the core. Founding partners; Jones Lang Lasalle, Cardiff Met University, Sony UK Technology Centre, Hiscox Re ILS and Techniquest worked closely with Richard to create real world development and learning opportunities for their teams and students.  
He is a father, fiancé, son and denim addict! When he's not flying his Welsh flag in the furthest corners of our planet, you'll find him kicking a ball with his son Fred, running trails, teaching, cooking or laughing over a coffee with mates!