Richard Parks enters Guinness World Records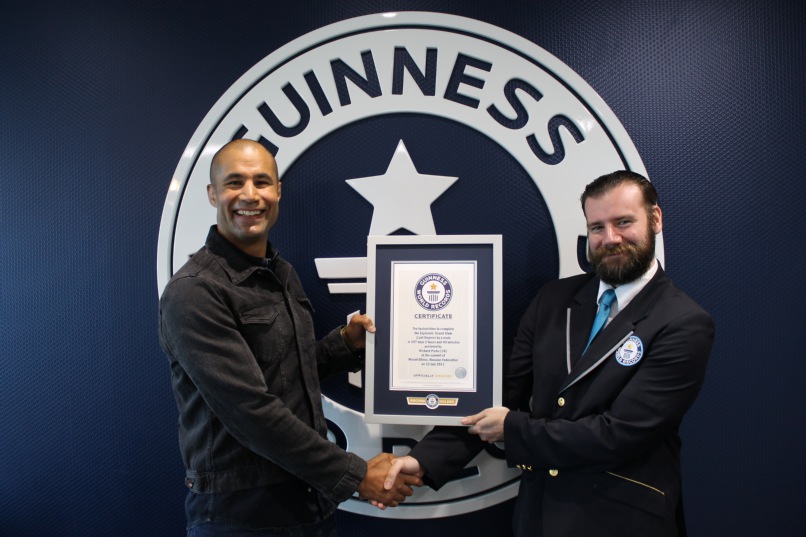 Five years after completing his record setting 737 Challenge, Richard Parks has been officially recognised as a Guinness World Records title holder in the new category of 'Fastest completion of the Explorer's Grand Slam (Last Degree) by a male'.
In 2011 Richard became the first person to climb the highest mountain on each of the world's seven continents and stand on all 3 poles (North Pole, South Pole and summit of Everest) in the same calendar year, completing his 737 Challenge in less than 7 months.
Many thought that achieving it was impossible within a calendar year, however this new record was a game changer in the climbing of the seven summits and sparked a wave of adventurers wanting to emulate Parks' feat.
Today, Richard received his official Guinness World Records certificate for 'Fastest completion of the Explorer's Grand Slam (Last Degree)' by a male.
He stated; "To be recognised as an official Guinness World Records title holder is a wonderful honour, but what is equally special to me is that a new category was created to mark my record."
Richard was awarded his Guinness World Records title at Guinness World Records' Head Office in London today, ahead of a special Facebook Live Q&A at 11.15am GMT.
Explorers Grand Slam Heritage
Traditionally the "True Explorers Grand Slam" meant climbing the 7 summits, reaching both North and South Poles but also summiting all 14 peaks above 8,000 metres. This is what Park Young-Seok from South Korea completed in April 2005. He was the first ever person to complete the Explorers Grand Slam in just shy of 12 years.
Confusingly, the Explorers Grand Slam has also been referred to sometimes as the 'Adventurers Grand Slam'. There is some consensus that the "True Adventurers Grand Slam" is achieved by also visiting the magnetic north and south poles. The first person to achieve this was Briton David Hempleman- Adams. He completed the 'Adventurers Grand Slam' in 1998. He was also the first Briton to complete the 'Explorers Grand Slam'.
However, in more recent years, the 'Explorers Grand Slam' is widely considered as climbing the 7 summits and reaching both the north and south poles, with the definition of 'reach' meaning full 'coast to pole' journeys of both the North and South poles.
This challenge, as it did in Young-Seok and Hempleman-Adams' case, often took years to complete.
In 2011, Richard opted to ski the final degree of the North and South poles for his 737 Challenge expedition to create a new type of challenge against the clock, undertaken under immense mental, physical and logistical pressure.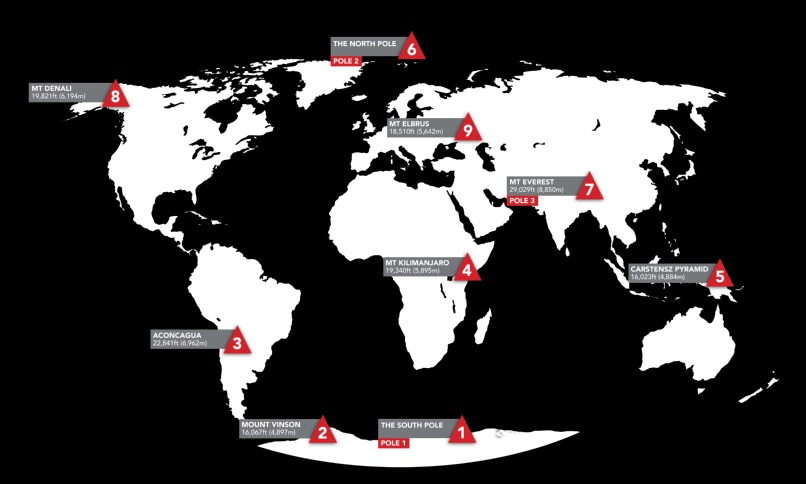 The Last Degree version of the Explorer's Grand Slam, allows the challenger to trek/ski from the 89th degree of latitude to the North and South Pole, rather than making the full journey from coast to pole, and therefore can be achieved in a faster time. Richard was the first person to complete the Last Degree version in under a year.
"I'm passionate about adding value to our world through pushing the boundaries of human performance, and am defiant in nature! When I was told that it couldn't be done, it excited me even more. It was during a difficult period in my life following my forced retirement from professional rugby due to injury, and I can say now that mountains saved my life. Integrity is paramount to me, so learning the new skills required was as important as the record itself", stated Richard.
He added; "I've chosen not to use the term Explorers Grand Slam in any way before because I saw my 737 Challenge as unique, and at the time a very personal journey. It was also important to me to respect those in both the polar and mountaineering communities who had completed that arduous journey over a number of years."
"That's why today is special," Richard stated. "To be contacted by Guinness World Records stating they have decided to create a new category for my record is awesome. I've been aware of several attempts in the last few years, each slightly different logistically, but it's inspiring knowing that people are out there trying to break my record regardless. The irony is that after five years, I might not even hold this official Guinness World Records title for much longer! Ha! It's not about that though, it never was! I'm thankful for so much more."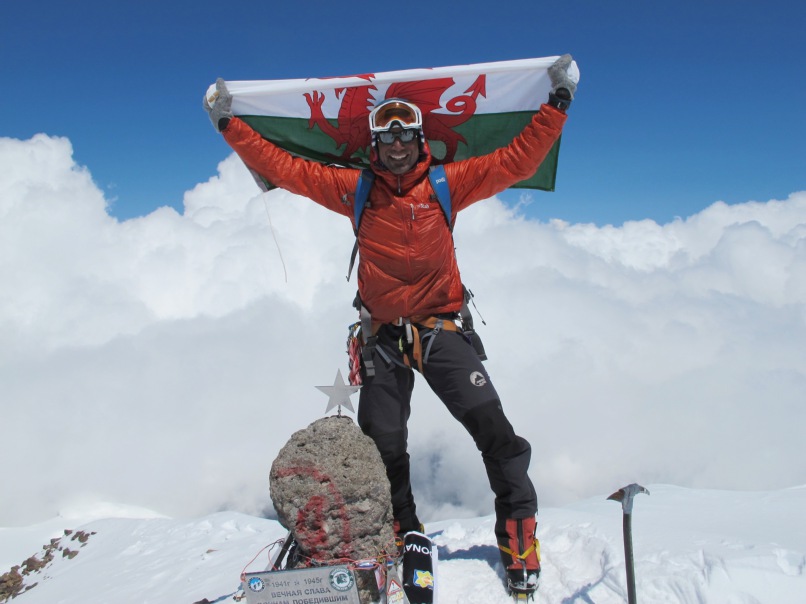 Richard completing his 737 Challenge on Mount Elbrus on 12th July 2011.
Commenting on Richard's achievement, Guinness World Records representative Corinne Burns said; "Richard has taken a classic adventuring challenge and added the element of speed, creating an exciting new endeavor that's already inspiring others in the exploring community. We're delighted to count him amongst our family of Guinness World Records title holders! His story from forced retirement from rugby to achieving this record is quite remarkable, and is the definition of Officially Amazing."
Corrinne added; "His 2011 expedition clearly captured the imagination of the climbing and polar community and has ignited a passionate trail of adventurers eager to follow in his footsteps. With an increasing number of adventurers trying to break Richard's time, we have officially announced two new categories; 'Fastest completion of the Explorer's Grand Slam (last degree)' by a male and a female.
The journey is equally as important as the record
Finally, Richard added; "This is another proud day for me, my family and my team. I couldn't do what I do without their love and support. When I think back to 2011, the journey is most powerful to me – like life I guess! I had never climbed a technical mountain, yet from the darkest period of my life and having recruited a wonderful team around me, together we achieved something incredible against the odds! Both physically and charitably."
"Through writing my book Beyond the Horizon and as an ambassador to Wales' Year of Adventure, it has been a privilege to have the opportunity to give back and share my experiences. It's my opinion that challenging ourselves outside of our comfort zones is more important than ever. From post injury depression, the frostbite on Everest, the crevasse fall on Denali, the risk of selling of everything I owned to fund it, the months of deprivation training, even the brutal slog through the jungle just to get to base camp of Carstensz Pyramid...I would go through every second again!"
Richard will be talking about his 737 Challenge and Guinness World Records title on Facebook LIVE in a Q&A at 11.15am today.