One more mountain to make history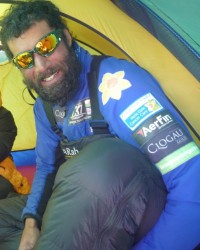 After completing the penultimate leg of his world first challenge summiting Denali in Alaska, Richard Parks has just one more mountain to climb to become the first ever person to climb the 7 highest summits on each of the world's continents and stand on all 3 poles (The North Pole, The South Pole and the summit of Everest) in the same calendar year.
His record-breaking expedition has seen him not only battle with the elements of extreme attitude, weather and fatigue to climb and ski through some of the most hostile conditions on the planet, he has put himself through the pain barrier climbing with frostbite and pushing his body and mind to the limits on every step of his 7 month challenge.
He now moves on to climb Europe's highest mountain Mount Elbrus, an extinct double-headed volcano standing at 5,642m/18,510ft and part of the Caucasus mountain range.
Richard had planned to climb this final mountain with legendary explorer Sir Ranulph Fiennes. However, Sir Ranulph is unable to join Richard as he is tied up working on the plans and logistics of his own forthcoming expedition, which are taking a lot longer than he had originally anticipated. Sir Ranulph stated; "I am very sad that I am unable to join Richard for one of his legs. What Richard has achieved to date is a truly great feat and I wish him all very best of luck for his final leg and wish him continued success with raising further funds for Marie Curie Cancer Care".
Richard will now climb Elbrus with experienced Jagged Globe climber Matt Parkes who was also his climbing partner for his recent summit of Denali.
THE STORY SO FAR
So far the Brit and former Wales flanker turned mountaineer has conquered The South Pole, Mount Vinson in Antarctica, Aconcagua - the highest summit in South America, Africa's Kilimanjaro, Australasia's highest peak Carstensz Pyramid, The North Pole, the world's highest peak, Mount Everest and North America's Denali, also known as Mount McKinley…all in just over 6 and a half months.
Day 16/ 27 Dec 2010 - Leg 1 – The South Pole, Richard reached the South Pole on 16th December 2010 after skiing the last 100km. He had to camp out at the pole until 1st January 2011 seeing the New Year in on the South Pole to ensure his world first record to stand on the 7 summits & 3 poles would be in the same calendar year.
Day 28/ 8 January 2011 – Leg 2 Mount Vinson, the highest mountain in Antarctica. Richard reached the summit 8 days ahead of schedule but then got stuck in Antarctica for 2 weeks due to fuel strikes in Chile and a broken plane. The long delay nearly put the whole challenge in jeopardy and put the pressure on Rich to make every day count.

Day 56/ 5th February 2011 – Leg 3 Aconcagua, the highest peak in South America. Richard summited the highest summit outside of the Himalayas in a very small weather window, taking the decision to attempt the summit from camp 2 not the usual camp 3 due to weather conditions. This presented him with a brutal summit day but the best shot at success. He had one chance to attempt the summit and made it, that same week a climber died on the mountain just below the summit.

Day 78/ 27th February 2011 – Leg 4 Kilimanjaro, Africa's highest mountain. Richard summited the highest freestanding mountain in the world alongside Marie Curie Cancer Care nurse Janet Suart and friends and family.

Day 94/ 15th March 2011 – Leg 5 Carstensz Pyramid, the highest mountain in Australasia. Richard summited after a savage, technical rock climb, and after spending days wading through the jungle through waist high rivers, leaches, and endless rain, rain and more rain, trekking in wet clothes every day. He had to abandon the summit attempt due to bad weather and then go up again the next day. A nerve-wracking Tyrolean traverse across the summit ridge was not for the faint hearted. After summiting it was time to trek all the way back through jungle, swamps and rising rivers..exhausting work.
Richard also had his clothes stolen and porter strikes to deal with on this leg making it one of the most unpredictable and adventurous of the 7 summits! The infamous Carstensz casualty list included 1 pair of boots, 1 pair of gloves, 2 pairs of socks, 3 cameras including video camera, a jacket, a pair of trousers, Scarpa trainers, a trekking pole, oh and part of his sanity!

Day 121/ 11th April 2011 – Leg 6 The North Pole. Richard skied the last degree to the geographical North Pole. He was joined on this leg by double Olympic rowing champion Steve Williams OBE. Richard travelled across the dangerous moving ice cap to reach the North Pole battling temperatures down to -40c.
On route he fell down a pressure ridge and a pulke (sled) landed on his head. A further close shave saw him almost get caught in between two ice flows moving together. His kit casualty list grew, setting fire again to further items in a bid to stay dry and warm.
Day 165/ 25th May 2011 – Leg 7 Mount Everest. Rich went straight from the North Pole on to Everest, Steve also joined him again on his leg. He summited the world's highest mountain almost 2 years to the day since retiring from professional rugby. Richard summited in the last available weather window of the season, his team were one of the final teams to summit.
After abandoning the first summit attempt due to high winds,
Everest was all about holding his nerve. Along the route he passed a dead body in a body bag on the Lhotse Face. He stood on top of the world just 45 days after he was stood on the geographic North Pole and was overcome by emotion calling home in floods of tears. After descending to base camp he was air lifted to Kathmandu and flown home after the shocking discovery that he had grade 1-2 frostbite in his big right toe.
Day 201/ 30th June 2011 – Leg 8 Denali. After making the decision to carry on with the challenge with his toe still recovering from frostbite, North America's highest mountain awaited. Rich arrived on Denali knowing 5 climbers had already died on the mountain this year. Denali was as brutal as expected, what wasn't expected was falling down a crevasse on day 1. Richard's fall led to some critical hours for him and his toe. Soaking wet and almost hypothermic a dramatic rescue from a 7-metre cavern followed before a gruelling 6 hour climb to reach the first camp at 7,500ft. Carrying heavy loads onwards, Richard and his painful frostbitten toe, shedding flesh, conquered Denali 10 days later.