Kilimanjaro in pictures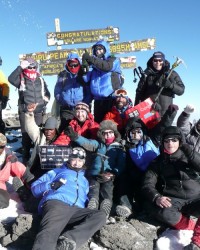 View all the latest pictures from the 737 Challenge including Richard's highlights from his 4th leg of the challenge, Kilimanjaro, just click below to see the picture albums.
Richard was joined on this leg by friends, team members and family who all took part in the Kilimanjaro climb to raise extra funds for the 737 Challenge, which is raising funds in aid of Marie Curie Cancer Care. He was also joined by the first of the "Great Britons" joining the 737 Challenge; Marie Curie Nurse Janet Suart.
Richard's Kilimanjaro team have raised over £7,000 already and are still fundraising and collecting now, a massive thank you to everyone who made the trip so special and who have been raising funds in earnest.
Richard would like to make a personal thank you to all the following people who joined him for the Kilimanjaro leg and were part of an unforgettable experience:
David Vodden
David Parks
Huw Williams
Dee Clark
Janet Suart
Tracy Pinder
Rob James
Nigel Russell
Gareth Andrews
Dai Williams
Richard stated; "It was such a special leg of the challenge for me, totally unforgettable with memories to last a lifetime. To have my friends, team members and families join me on Kilimanjaro was just awesome and the fact that everyone summated, 100% success was the icing on the cake. I think you can tell by the photos that it was a pretty special 10 days!".
Members of the public and friends are also joining Richard on leg 7, Mount Everest. They will be trekking to Everest base camp with Richard and Steve Williams, the former Olympic rower and two times Olympic gold medallist who will be joining Richard for the North Pole and Everest Legs of his world first 737 Challenge.