Q&A with Janet Suart ahead of climbing Kilimanjaro with Richard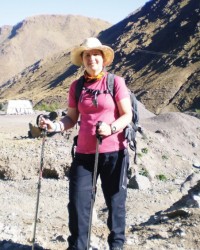 The 737 Challenge caught up with Janet Suart who works at the Marie Curie Hospice Penarth about her training so far and thoughts ahead of the big climb to Kilimanjaro with Richard on leg 4 of the 737 Challenge.
The Marie Curie Nurse of 13 years and keen walker took on her first challenge in 2006, climbing Mount Toubkal, the highest peak in the Atlas Mountains of Morocco (pic right). She has also completed the famous Yorkshire three peaks, however Kilimanjaro will represent her toughest test yet.
JANET, YOU LEAVE THIS SATURDAY TO JOIN RICHARD ON KILIMANJARO, HAS IT COME AROUND QUICKLY?
Yes it has! I don't know where the time has gone! Seven months ago it seemed so far in the distance, and now it's upon us but I am really looking forward to it.
ARE YOU PREPARED AND READY?!
Yes I feel ready. I have trained as hard as I can, fitting in around my work schedule at the hospice. I don't think that any more time would make me any more prepared for it.
HOW HAVE YOU BEEN TRAINING?
Well I walk a lot, I often walk to and from work, which is around 6 miles each way and there are quite a few steep hills in Barry so it's good practice. I have also been training on Pen Y Fan in the Beacons and we had a training weekend in Snowdonia with the team going to Kili, which was great. I also have a cross trainer machine at home that I use and I do squats and some other bits to top things up, but from experience lots of walking is the key thing and I have been doing a lot of that.
ARE YOU EXCITED?
I am very excited but I am also a bit anxious and nervous. Rob in our group who is also coming to Kili has been keeping me very grounded with texts of stories of people who didn't make it and why! Then I spoke to some doctors that I know at work who also didn't make the summit and only made it to Gilman's point, the point before the summit (Uhuru Peak). Luckily a friend reassured me that I will be fine and if I did Morocco 2 years ago I can do Kili! Excited, anxious, nervous and I can't wait all rolled in to one!
WHY IS IT SO IMPORTANT THAT RICHARD IS RAISING FUNDS IN AID OF MARIE CURIE CANCER CARE?
I think it is important that people understand what the challenge is all about. Yes it's great I am climbing Kilimanjaro and it is amazing what Richard is doing but at the end of the day what this all achieves is helping people who have terminal cancer and other terminal illnesses. It gives people their dignity, having the support they need at the end of their lives and also support for their families. It gives people a choice of where and how they want to be cared for. My father has bladder cancer and today he told me that the day before I leave on Friday that he will start his first dose of chemotherapy which we didn't think he would have so this news puts it all in to perspective.
WHAT HAS THE AWARENESS THROUGH THE 737 CHALLENGE PROVIDED?
Richard has been a great supporter of the Marie Curie Hospice Penarth. We are one of nine Marie Curie hospices around the UK and along with our colleagues in the community make it possible for people to spend their final days in a place of their choice, whether that be in their home or in a hospice.
I think the challenge has helped the hospice raise its profile so people can understand the work we do. The money is obviously so important but it's just as important that people understand they don't just come to a Marie Curie hospice to die. We help, teach and support people how to have a good quality of life and the hospice is a happy place too. Not all cancers are life threatening so often we also see patients with cancer who go on to survive cancer or see us for many years. Not all patients have cancer too, but other terminal illnesses such as motor neurone disease. We are taking on more and more non-cancer cases and we have many patients in for respite so families can have a break from care, which is also very important.
HOW DOES IT FEEL TO BE PART OF THE WORLD FIRST 737 CHALLENGE?
It's so exciting. It's an amazing challenge and to be part of this in Richard's words is "awesome" and I am so happy to part of it. When he first came to see me and asked me would I do Kilimanjaro, I thought I don't know if I am up for that as it had been about 2 years since my last challenge but he is so wonderful and passionate about what he is doing you can't help but get caught up in it and want to be part of it.
FINALLY, WHY SHOULD PEOPLE DONATE?
Just £20 can fund an hour's of Marie Curie nursing care which can make a real difference to people's lives. It's easy to say that, your donation really will make a difference but it honestly does, and I see the rewards of that day in day out. We all know someone or have had someone close to us be affected by cancer, so please give everything you can, because your kind donations makes an impact that I could never put in to words. I hope that the dedication and effort that Richard has shown through his training and the challenge so far will also inspire people to dig deep, what he is doing is truly remarkable.