Blog - Back at Union Glacier Base Camp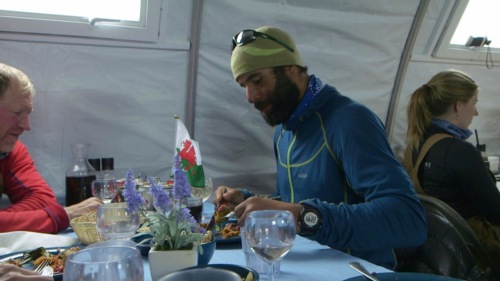 Hi guys.  Firstly I have been told about all the messages of congratulations I have received and I would like to say a huge thank you to everyone for all your support.  When I return to Punta Arenas in Chile I will get to have a look at them on Twitter and Facebook, at the moment it's impossible for the team to read them all out to me on the sat phone but I have heard there are so many and it means so much, thank you everyone for all your kind words.  #Gratitude
I was flown off the Pole on Saturday in the twin otter back to Union Glacier Base Camp.  Slept for 15 hours, which was well needed.  I'm shattered physically and mentally but I feel pretty good actually.  I've got a few ailments and injuries that the docs have looked at but on the whole I am in okay shape.
After reaching the South Pole on Saturday I went to bed about 6am my time, a few hours after I had got there.  I woke up around 10am in the morning and the weather had deteriorated so the pilots made the decision we had to fly pretty quickly back to Union Glacier Base Camp (UG) as the forecast wasn't great for the next 2 or 3 days so I flew off the pole back to UG by twin otter that day.  When I got back to UG all the guys were so amazing, I had champagne and they put out a special dinner with a welsh flag next to it and I sat down and had a meal with the pilots.  I saw the medical team and had a shower and finally got to bed about 2 in the morning.  I did miss breakfast and slept through to lunch and had about 12 hours sleep yesterday.  I got up and spent some more time with the medical team and then had the chance to properly catch up with everyone here.
I woke up early this morning and did a quick radio interview.  I didn't sleep well last night.  My body has been so regimented and disciplined for the last month, it was hard to break that cycle.  I woke up at 5am, which is around the normal time I would wake up on expedition, I'm shattered and now heading back to bed.  Think it will be a while before I break that routine.
The first person I saw when I got to the South Pole was Hannah McKeand, whose British record I broke.  Hannah has played a significant role in this expedition, we spent a lot of time discussing different gear options and strategies in those 2/3 weeks when I was waiting for a weather window at the start and I'm really grateful to Hannah for her support, there is no ego involved and just like Christian was, she was incredibly supportive and really happy for me.
When I got back to UG, once again it was David Hamilton who was my team leader on Everest there to greet me.  He has become a good friend.  Last year in Antarctica when I had to abort my expedition he was the first person I saw, it was nice that this time he was the first person to greet me again.
He was also the field guide for the TV crew and has been quote involved in the early filming of this expedition.
For those that are interested, following cookies and crisps, my first meal after I finished was at the South Pole camp.  Potatoes, cabbage and pork…it tasted awesome!
Hope all you guys are well back home.  Speak soon, Rich.