The latest update from Richard on Cho Oyu - 14th September Day 18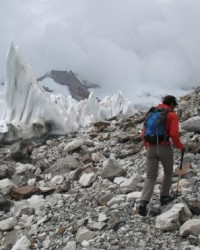 Yesterday marked day 18 of the expedition and Richard checked in from base camp to give us the latest update. Don't forget to follow his updates day by day on Facebook and Twitter. You can also view the latest photos from the expedition on Facebook (see links below).
UPDATE FROM CHO OYU - DAY 18.
The weather is pretty mild here from mid 20's in the day and sun to minus 15ish at night, we're just at the end of the monsoon season. The higher we climb though it gets considerably colder.
We're breathing about 50% o2 of sea level here and at camp 1 it'll be about 45%.
Yesterday we climbed to camp 1 as part of our acclimatisation and back down in the same day - a 10-hour day it was pretty savage!
We have also had a great day of training on the ice towers in the glacier, going up over ice screw anchors, along a traverse set above a roaring glacial stream, then a rappel back to the rocky ground. Camp 1 is a spectacular ridge camp, dropping away steeply on both sides.
Tomorrow the team has been split into 2 teams; one climbing up to camp 1 and sleeping there, climbing to camp 2 the day after and back to camp 1. The day after they then return to base camp. The second team will have an extra days rest in base camp before the same climbing.
I feel strong and good, but it's all relative. Everything is tough at this altitude and it's very much a mental game. The mountain is massive and just sitting there every day! We'll climb to camp 1 four times and camp 2 twice or three times before we get to the summit.
Steve and myself are climbing tomorrow and have opted to do our own load carry instead of using the Sherpas. We're the only ones to have, but its not a macho thing, just seems right! The Sherpas are awesome and have taken our tents up and will have set them up, the least we can do is carry our own clothing and gear!
Talking of gear, my rab gear is amazing. It's so light and warm, I'm loving my new rab alpine 600 sleeping bag and microlight down jacket.
There are yaks everywhere on Cho Oyu. They sometimes sleep in between our tents, but that's not good, as they've been known to walk over tents and get caught up in the guy lines! There are also Goraks - massive black ravens that fly around in the morning they wake us up by flying really low to the tents.
At base camp we have and Aussie chef called Gavin who's awesome. Last night we had lamb shanks!! Seriously he is a legend. He runs every morning, yes at 5700m!! crazy! but from tomorrow at camp 1 and above we're using stoves and freeze dried food and we will also have to melt all our water.
I'm off now, it's flipping cold and I've got to get my hot chocolate fix!
Rich x