Richard and Steve settle in at Cho Oyu base camp.. now the climb begins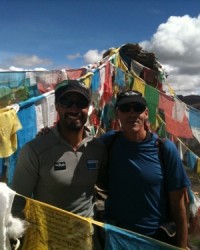 Richard Parks, Steve Williams and their expedition team from Jagged Globe arrived at Cho Oyu base camp on Thursday and have now spent 3 days settling in to their new home. At 5690m, Cho Oyu base camp is higher than Everest's. It's almost a km higher than Mt Blanc and only a couple of metres shy of Kilimanjaro itself. In fact, it's higher than 3 of the 7 summits that Richard will face on his 737 Challenge including Mount Vinson in Antarctica, Carstenz Pyramid in Indonesia and Mount Elbrus in Europe, proving just how tough this training expedition is for both Richard and Steve.
At 8201m, Cho Oyu is the 6th highest mountain in the world and the perfect preparation for climbing Everest.
CHO OYU SO FAR
Richard and Steve drove with the team across the Tibetan Plateau before acclimatising in Xegar. Further acclimatisation continued before a large height gain to Chinese base camp. They then conducted a further climb to Cho Oyu base camp itself with a stopover in between. The expedition's equipment was carried by Yaks which after spending a summer in the fields are magnificent, strong and extra wild. Carrying 60 kilos on their back doesn't even faze them.
Now climbing Cho Oyu begins in earnest. For those that haven't been following Richard on the 737 Challenge Twitter and Facebook sites (see links below), here are the updates from Richard so far since he arrived in Tibet.
31st August 2010 – Day 4 - Lhasa
In Lhasa, Tibet, acclimatising at 3600m for 3 days. We are visiting a Buddhist temple and monastery tomorrow to be blessed for the climb. All the team are cool and strong climbers.
5th September 2010 – Day 9 – Xegar
Me and Rob Anderson on a little acclimatisation climb in Xegar Tibet - see pic! We are still 2 days drive and 3 days trek to base camp! Rob is leading the South Pole, Mount Vinson and Carstensz Pyramid on the challenge.
6th September 2010 – Day 10 – Chinese Base Camp
On our way to our first camp called Chinese base camp. Our gear went by lorry and they had an epic! Road washed out and the lorries over turned but all is fine and it finally got there! We have had a lot of snowfall as we're still in the tail end of the monsoon. I got recognised by a French climbing team who were Perpignan fans which was slightly weird but awesome!
9th September 2010 – Day 13 – Arrived at Cho Oyu Base Camp
We have arrived in base camp today, at 5690m, our home for the next month! Feeling good but everything is tough at this altitude. Set fire to my gloves trying to dry them! All is well and will update more from Cho Oyu soon.
10th September - Day 14 – Richard reports from Cho Oyu Base Camp
Things are pretty good here, I'm feeling good and strong, but everything's tough at this altitude. We arrived at base camp yesterday and should be moving up to camp 1 within the next 5 days. However the weather forecast says that we have some bad weather coming in from tomorrow, which means snow!
Yesterday, on the way to base camp we got hit by some snow and I thought it would be a good idea to dry my gloves on the fire in the sherpa hut that we were staying in, but I forgot them and set them on fire!
We spent the afternoon today and will be tomorrow walking up to the glacier from base camp to acclimatise and to reccy the route to camp 1.
Base camp here is higher than Everest base camp, it's 5690m - almost a km higher than Mt Blanc itself and only a couple of hundred metres shy of Kilimanjaro, we'll be based here for the next month.
11th September - Day 15 – Richard and Steve climb as high as Denali!
We've just got back from an acclimatisation climb to 6100m, about half way to camp 1! That's about the same height as Denali in Alaska and one the 7 Summits! (6194m) Crazy, the scale of everything is so much bigger than anything I have experienced. I can see how people get psyched out sat at the bottom of an 8000m mountain for months waiting for a weather window! I led the group back down from 6100m today, which was awesome.
Tomorrow we're having a Pujah, which is a Tibetan ceremony to bless us and our climbing gear before we climb. We'll be drinking, singing and dancing tomorrow, making it a write-off as far as climbing goes!
Weather permitting, the day after we'll climb to camp 1, 6400m, for the first time to leave some gear there before coming back to base camp. We'll climb to camp 1 3 times before we attempt the summit! The scale is crazy!
For the latest updates day by day and to see more pictures, join Richard on Twitter and Facebook.
CLIMBING THE NORTH-WEST FACE OF CHO OYU
The Schedule
Richard and Steve will continue to make their initial excursions and exploration of the lower part of the mountain. The aim over the following days will be to get as high as possible in order to have a good look at the route and the conditions on the mountain. The team do not carry loads and aim to return to base camp for the evenings.
Throughout the climb, Richard and Steve will adopt a programme that exposes themselves to ever increasing altitudes. This will be achieved by "climbing high and sleeping low" until they feel suitably well adjusted to make the next move up to a higher camp. From each successive camp, they will then climb high once more, before returning to the lower camp to sleep.
Finally, they will return to base camp for a prolonged rest of at least 4 days before moving up to occupy camp 3 in readiness for the ultimate climb to the top.
Camps on Cho Oyu are located at:
Camp 1 - 6,400 metres

Camp 2 - 7,000 metres

Camp 3 - 7,400 metres
Camp 1 is at 6,400 metres and 5 to 8 hours from base camp. The camp is reached by a stiff climb from the head of the glacier at 6,100m. From here, the route follows steep scree, which improves as height is gained. Camp 1 is sited on a broad shoulder of snow, which leads up to a ridge above the camp.
Above camp 1, a snow ridge leads to a series of ice cliffs. The way through these involves climbing a steep 50m ice wall at over 6,600m. Although straightforward, this is the hardest climbing on the route as it involves a huge effort to climb steep ice at such an altitude.
This challenge remains physically tough as they make the journey to camp 2. Throughout this section, fixed ropes are placed in conjunction with the other teams operating on the mountain at the same time.
Above the ice cliffs, there are several large crevasses, which they will make their way around until they finally give way and they reach the site of camp 2 at 7,000m. Depending upon the snow conditions, this can be a very demanding day of 6 to 8 hours.
Camp 3 is at 7,400m and about 4 hours above camp 2. The top camp is located beneath a rock band that cuts the snow slopes of the upper basin. Looking south as they rise above the beautiful Nangpa Gosum peaks, they will be able to see the peaks of Nepal and, to the north, the brown and yellow earth colours of the arid Tibetan plateau. Though the distance to camp 3 is short and the way easy, the altitude makes big demands of everyone.
Once in camp 3, they must make every effort to prepare for the following day. This means drinking, eating and resting.
SUMMIT DAY
In order to function effectively on summit day, it is vital for Richard and Steve to drink as much as possible and this involves a big effort since the altitude makes the easiest physical work very demanding and the task of boiling water slower than usual.
However, they must resist the temptation to relent and must relax as drinking and eating, in order to replenish the calories and fluids lost during the climb so far, is the highest priority if they are to be successful.
Summit day begins early as it takes several hours to make breakfast, to drink adequately and to get fully equipped before leaving the tent. Being west facing the sun hits the camp late so there is no rush to leave until shortly before first light.
Once on their way, snow and rock ledges lead through the short rock band above the camp. Gradually the angle of the slope relents until they emerge onto the broad windswept back of the mountain. Then it is only a matter of putting one foot in front of the other to slowly gain the distant summit where Everest is the only summit visibly higher.
It is not the only mountain to be seen, however, and the magnificent vista as they cross the vast summit plateau towards their high point includes Ama Dablam, Lhotse, Nuptse, Menlugtse, Gyachung Kang and Gaurisankar, as well as all the peaks of the Khumbu Himal. They reach the summit 5 to 8 hours after leaving camp 3.
Descent is by the same route, with nights spent at camp 3, and camp 1.