Steve Williams looks back at Everest success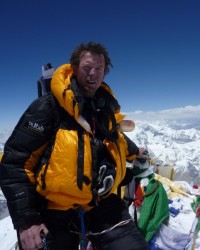 Our review of Everest continues with an in-depth look back at summit day from Steve Williams OBE.
On 25th May 2011 former rower and double Olympic gold medallist Steve Williams reached the summit of Everest just a few hours after Richard Parks reached the summit to mark his 5th summit and 3rd pole of his 737 Challenge.
It was a lifetime dream fulfilled for Williams who joined Richard Parks' 737 Challenge for the North Pole and Everest legs. In just over a month, Steve and Richard reached the Geographical North Pole and summited the highest mountain in the world. Two incredible back-to-back feats of endurance.
The former rower showed his trademark tenacity and courage that earned him 2 Olympic gold medals in Athens and Beijing in the men's coxless four to reach the highest mountain in the world at 10.10am local time, 5.25am UK time, just 2 weeks ago.
Here we reveal the exclusive summit shot of Steve and get his take on an unforgettable summit day, climbing without oxygen to camp 4, losing his voice for almost 2 weeks and how summiting Everest compares with winning Olympic Gold!
SUMMIT DAY
Summit day was a really tough day for me, I always knew it would be and I didn't underestimate it, but even so I found it harder than I was expecting, I think partly due to a really tough day getting up to camp 4 on the south col, which was 2 days before our summit day (as the weather held us up for 24 hours) going from camp 3 to 4 was a long, very steep, tough day and for me personally, I decided not to use oxygen for that day, which made it quite a tough day and then the time at camp 4 was very tough as well, a very disorientating time, hard to eat things, dry retching. To boil down drinking water, a litre of water takes the best part of 2 hours because there is less oxygen up there but also because the snow is so hard so it takes a lot longer to boil drinking water, so I was a bit dehydrated as well.
But it was a stunning day, when the sun came up the views were truly breathtaking. You are pretty much walking up a 900m ladder for the best part of 10/11 hours so it was a tough day but was well worth it when I got to the top.
BEFORE SETTING OFF FROM CAMP 4 TO SUMMIT
It's a very exciting feeling, in some ways it's a lot like sitting on the start line before a big race, you know that it has been coming for a long time, you have done lots of preparation, you are excited about the potential at the end of the climb/race, there's a lot of expectation about what it's going to be like, what you are going to be able to see, what it is going to feel like being on the summit, also a little bit of nerves, anticipation, that feeling in your heart and at the bottom of your stomach that it is going to be a tough day but you are looking forward to it being a challenge.
THE CLIMB
You start off about 10 o'clock at night, it's pitch back and all you can see is the stars up above you, the moon was on the right hand side. Beyond that all you can see is the beam of your head torch and the ones above and below you. The ones up above give you an indication of what's coming up, how steep it is. I could see these head torches above me and every so often they disappear over what you think is a little bulge and you think oh thank god we are going to get on some steady ground but then it just turns out to be exactly that, a little bulge and once you are over that the ground is just as steep again.
All these little mind tricks are being played with you all the time, and in a way it's quite disorientating moving on such steep ground, physically working very hard and all of that in pitch black. It's quite a strange experience.
It was nice when the sun came up, it was a bit warmer and you could start to pick out the views and the views are absolutely breathtaking, you look to the North and you see the Tri-Tibetan plains and you can look down the Khumbu Valley which we have walked up and pick out things you have walked past over the last month, the view horizon to horizon and seeing the curvature of the earth is very, very special.
You sort of expect to be surrounded by an aeroplane because it's the kind of view you have only ever seen out of an aeroplane and that is a bit of a shock to the system when you are standing on your own two feet on a bunch of ice, but there is nothing between you and this stunning view.
I knew I was moving quite slowly, but I also knew that I couldn't go any quicker and it would be a mistake to go any quicker and I was just resolute. I just thought it was going to be one of those nights, a long climb but I knew I would eventually get there, it was just a matter of digging in and toughing it out.
I was obviously pleased to see that Rich had got up there and he was making good progress safely down, at that point, you can't quite see the summit it's just over a little bulge but you can see 99% of the summit ridge and it's just absolutely beautiful, you can see the Hillary step, you can see a few other rock bands you are going to have to get over and it's the sort of view that you have seen a thousands times before, in photos, in books that you have read or internet photos, so you know that view like the back of your hand anyway, but when you actually see it in the flesh, it stops you still. It takes your breath away, not that you have got a lot of breath anyway but you really have to stop and take it in, it's just beautiful.
MAKING THE SUMMIT OF EVEREST
I didn't cry, you are very very tired and again a little bit like after a race - I always found that you couldn't take everything in in the first few moments, you were so tired, the first feelings were just natural instincts of survival and get oxygen in and that sort of thing…make the pain go away! so I just sat down and got a drink out and just took the view in and enjoyed the moment.
A little bit like after the Olympics, I always remember telling myself just try and remember this, remember this, you'll want to remember this for the rest of your life so you try and take snapshots, memory shots and that was what it was like on the summit, just try and take it all in.
I was up there about 10am in the morning, I was lucky that it wasn't already cloudy. Just the summit ridge itself is like walking up the side of a knife edge, you look back the way you came and then see the Tri-Tibetan plateau to the north and then you see the last little bit which you walked up the Khumbu Valley, the glacier where the Khumbu Icefall turns in to the glacier, it just looks like a damn that has broken and the water has broken through the damn and then it has frozen in time, it's like a white frozen river, it's vast as well, then it snakes its way down the valley - the view is pretty special.
SUMMITING EVEREST v WINNING OLYMPIC GOLD
It's impossible to compare, it was really special, but I don't know how to compare it to the Olympics, for a starters rowing at the Olympics you share it with 4 other guys, the 3 guys and the coach, it's very much a shared experience, you couldn't do it without the guys, of course Rich and I were working as a team throughout the North Pole and Everest but it's very different just standing there on the summit with just you and your Sherpa, you get on well with your Sherpa and you have to, but he only speaks a little English so that is one way it is very different to the Olympics.
THE FINISH LINE
The finish line is not the summit, the finish line is coming down to base camp. It's different to rowing in that sense in that you don't cross the finish line and then it's a nice shower and get in the car and go home! You've got to walk back in to base camp 48 hours later.
It's true what they say that most accidents happen on the way down, you are obviously a lot more tired and its also a lot colder as well. Walking down you are not working so hard and are a lot colder and you are moving quicker so mistakes are more likely to happen, but you just have to be steady, particularly when you go over the rockbands, you've really got to be careful with your footing and so long as you keep to the systems and clip in where you can and your technique is good, whether you are using an arm wrap or repelling, then you can mitigate against the risks. But you are very tired and you just want to switch off, you want to go off to your happy place and crunch the metres down but that's where the mistakes happen if you just switch off and not concentrate.
THE INTENSITY OF EVEREST
There are some very intense bits when you are on very steep ground, vertical ground and difficult ground where you have to work very hard to get decent footholds and use the rope effectively, I quite enjoyed all the high exposure bits, I always have, it gets the heart going. You know there is one bit in the Western Cwm where there is a huge crevasse and there is a bridge of 5 ladders roped together and so you can imagine the bow from end to end and the swing from left to right is pretty massive! I quite enjoyed all the exposure bits.
LOSING MY VOICE
I found for the whole month that whenever we went high above 6000m and in the early morning when the wind was so cold, I was losing my voice every morning for the first couple of hours. It was actually going from camp 3 to 4 - I am sure it was because I had no mask on because I wasn't using oxygen when I lost my voice. I had nothing to protect against the cold air I was breathing in, nothing to warm it up and I pretty much lost my voice from that point until all the way until I got back to Kathmandu which was about 9 days later.
Every so often I thought, oh god I hope this isn't going to be a problem, it was just frustrating to be honest with you, just using hand signals when you are tired anyway and you can't communicate, and then there was a point when were coming down the icefall and as you go through the icefall and cross all the crevasses you work as a team, so one man crosses a ladder, then the guy in front or behind holds some rope so there is tension in the rope so the guy can stabilise himself. There was this one point when I could see that even know I was pulling the rope that it was going to slip and this guy was going to be on the ladder and all of a sudden the tension would go and he would probably fall in to the crevasse and I couldn't shout at him to stop. The guy behind me was looking behind himself, so I had to sort of headbutt his leg to communicate with him! so it was frustrating and potentially for that guy, pretty serious.
It still hasn't fully recovered but it is a lot better. It's 2 weeks since we summited, it just shows you what a wild place it is that it can take your voice away for 2 weeks.
THE PHYSICALITIES OF EVEREST
Because we were on the mountain quite late, for better or worse we could see people going up, we could see people coming down. We were up the mountain for 6 days on summit bid, most people are up there for 5 days, even just in that time, people come down and they look like different people - their eyes have sunk back in to the back of their head and they have lost so much weight the shoulders are arched over, they look really drawn, it takes a lot out of you even in just 5 days.
It's such a different physical and mental challenge that it's difficult to compare to rowing, in rowing we were training hard don't get me wrong, but we could stop and recover in the best time available where with this you go just as intensely and you keep going well past the point you have anything left to give and then you reach the top and you still have 2 days to concentrate to get all the way back down again, it's so difficult to compare to rowing.
So many people climb Everest now, people say that Everest is getting easier, maybe it is getting easier, but it is still bloody tough and anyone that does it certainly has my respect because it is very very tough and I don't think people give it enough credit now.
I didn't underestimate it but it was still harder than I thought. It was tough, there is no question about that. I did hear stories about people saying it's a walk, it's not technical, those things are right it isn't classified as a technical mountain but you are on very very steep ground for many hours at a time, the nights you spend are very high, you spend the night at 7800m smack on the death zone and that's a very unpleasant, uncomfortable, disorientating time, it is a very tough mountain.
NO REGRETS
I would have liked to have been a bit more with it on summit day or at least I would have liked to have had more energy on summit day but I don't have any regrets choosing to go from camp 3 to 4 without oxygen. It has always fascinated me to go very high without oxygen. It more than captured my imagination when I was listening to Stephen Venables talking, he summited in 1987, he was the first Brit to climb without oxygen so it has always fascinated me to go very high without oxygen and I went there to do something very tough. Everything I did up to camp 3, I went a little bit beyond in the first 3 rotations, that gave me loads of confidence. I performed well, I climbed well, I slept well, I ate well, I drank well, didn't have any headaches, had a completely clear head and that gave me the confidence to go from camp 3 to 4 without oxygen so I don't regret that at all.
LIFE ON THE MOUNTAINS
Everything I have done over the last 18 months I have absolutely loved, just being that close to a mountain, on that mountain…Denali, Cho Oyu, Everest - its just breathtaking to be in such a wild beautiful place and it has only whetted my appetite to do more, but I think for the next few months, the next year, I will put in an appearance at home but I definitely have plans to climb other mountains.
ON RICHARD'S FROSTBITE
Richard's cold injury is devastating for him, but also to everyone involved, it's really heartbreaking to think that everything he has been through and particularly after the big one and also the risky one on the North Pole as well, he's done those and hopefully Denali and Elbrus will be a bit more straightforward. It's heartbreaking to think that this injury has come along now but over the last 18 months I have come to know Richard quite well and he is a really tough guy. If there's any chance he can do it he is obviously going to do it. It's very difficult because he didn't make a mistake but I know he's getting good advice and he has a good system in place for recovery and I think it's plausible to recover from the frostbite inside a month, it will be very tough but I think he has the chance to do that, so as long as there is a chance to do that, well then Denali is still on the cards.
CELEBRATING HIS SUCCESS
I had a self imposed drinks ban since the early hours of the 1st January which was pretty tough actually, when it came to saying goodbye to everyone it was quite tough to stick to that and there was only one time, and I knew this when I set myself the drinks ban that I would break it..and that was during our Puja ceremony at base camp. The Sherpa was bringing around rum to toast everyone's good fortune on the mountain but I have had a couple of drinks since coming down and they tasted pretty good so I am looking forward to the big party with the 737 team sometime over the summer.
I had always planned to take the can of lager from the North Pole to Everest and that be the first beer I drank at base camp but I had so much kit to take to Everest I couldn't fit it in my kit bag! so it's still sat in my cupboard in my kitchen! I know that's not what I promised but maybe it will be the first drink I have at the 737 Challenge party.
CONGRATULATIONS TO STEVE ON REACHING THE NORTH POLE AND THE SUMMIT OF EVEREST