Project Everest Cynllun team blog: Professor Nicola Phillips - Settling in to Everest Base Camp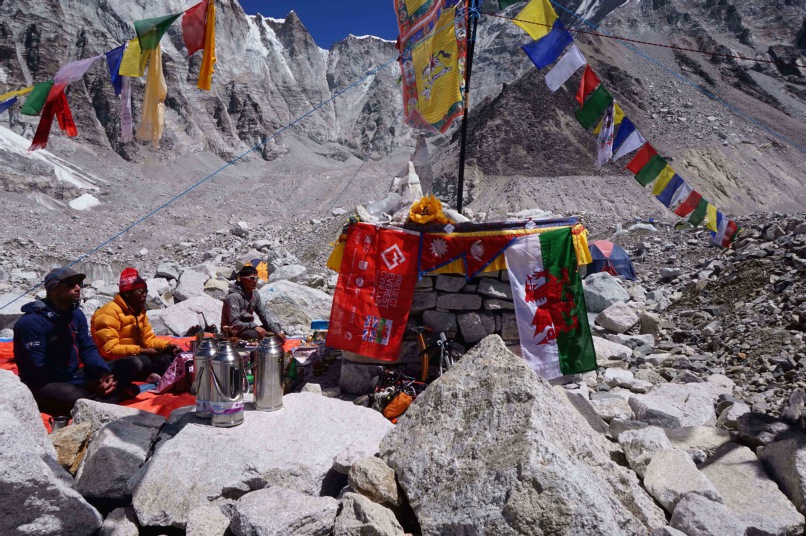 We arrived in Base Camp a few days ago and have been resting up after the journey here. Richard has been itching to get up onto the mountain since we arrived, which is a good sign. Whilst rest and organising ourselves has been an important component of preparation, Richard's keenness to get up and above the icefall is a good indication of both his physical and mental state at the moment. You can already see his "Game Face" starting to switch on.
Arriving in Base Camp has meant that he has been able to let go of some of the other additional responsibilities and potential distractions of leading the group on the way here, allowing him to focus more on the days and weeks ahead and what he needs to do to achieve his goal. The days have quickly settled into a routine, largely centred around meal times, especially as the food has been second to none since we arrived. I have to say that I was not expecting lamb shanks or steak and chips!! What Anthony the chef can create in a tent and a couple of gas stoves is awe-inspiring.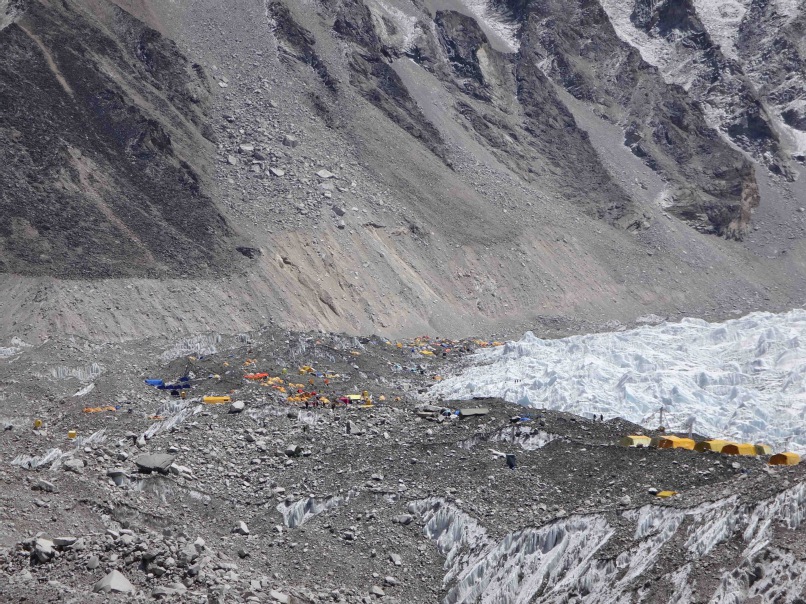 Everest Base Camp
However, the rather comfortable routine of Base Camp is now something Richard is keen to move on from, just as an athlete starts to get restless as a competition gets nearer. The routine of living with a group of people can become as much of a distraction as leading us through the first phase of the journey was, just in a different way. The climbing team of Richard, Gareth, Pema and two climbing sherpas, Mingma and Sonam had a very successful meeting and they have finalised the strategy for the next few weeks.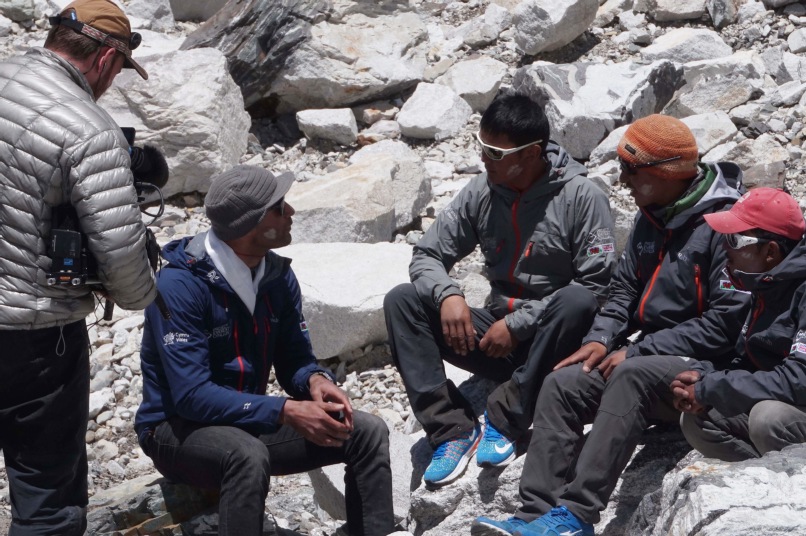 Richard meeting with his Sherpa team
Planning is crucial at this stage and it is deliberately quite different to the typical acclimatisation strategies of other teams here who will use supplementary oxygen above 7,000m ish. That's because Richard isn't preparing to summit with supplementary oxygen, as most teams are. He has developed a strategy that will enable him to acclimatise to over 8,000m, which involves a delicate and personal balance of exposure and exertion at much higher altitudes. His strategy will see him spend 17 days above Camp 2 (6,400m) with potentially 3 trips to the South Col and over 8,000m. I'm sure he'll share more with you in his next blog. That all starts in the next few days. It's also not just about acclimatisation, although obviously that is really important and why we had to arrive in Nepal so early but if it was simply about acclimatising, many more people would have achieved the staggering feat that Richard is aiming to do.
In the 7,003 summits of Everest on all routes by 4,093 people, only 193 climbers have summited without supplemental oxygen. That's a pretty exclusive list to join. As well as acclimatisation, success is very much about his physical and psychological readiness and he will very soon get the chance to put all the months of hard work into good use. He has to be strong enough and fit enough as well as have the mental resilience, in addition to the final physiological adaptations.
We had our Puja blessing today, which was a wonderful mix of reverence and social gathering. The lama blessed the climbing team and all their climbing gear as well as our Welsh flag. For this I put on a different hat… that of assistant camerawoman!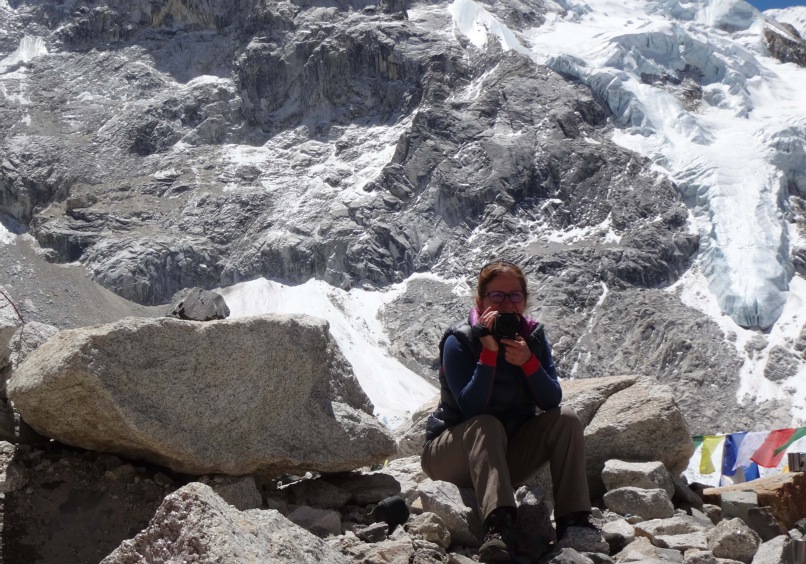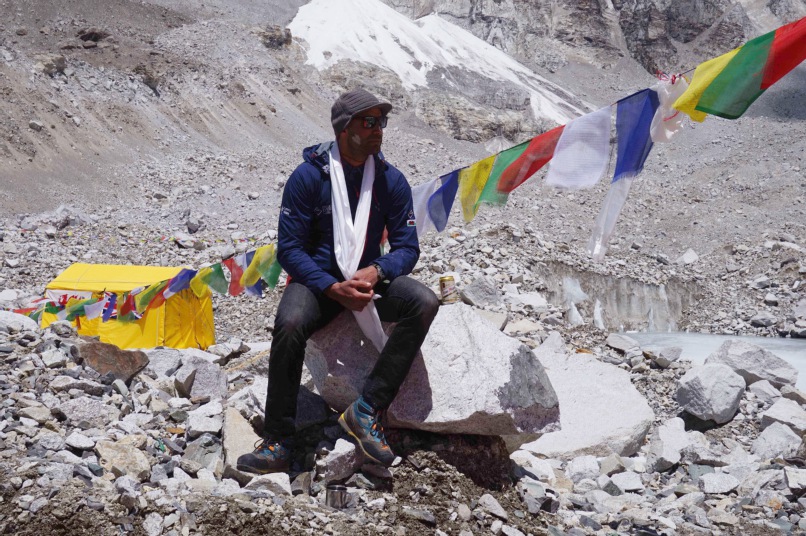 Richard after his Puja ceremony - also featured at top of page
Once this has taken place, Richard and the team can start in earnest, leaving for Camp 1 via the icefall in the early hours of Friday morning. They will spend a night at Camp 1 and visit Camp 2 before returning to Base Camp in a couple of days. They will also use this opportunity to take some supplies up with them for their next, much longer climb a few days later. Once that all starts, my role will be to maintain communications via the Jagged Globe team onsite, then to pick up on any minor things related to fitness if needed during the days he is back at Base Camp. I will keep everyone posted on progress and Richard will be tweeting each day from his position on the mountain. Catch you soon! Nic.