Richard's blog from Dingbouche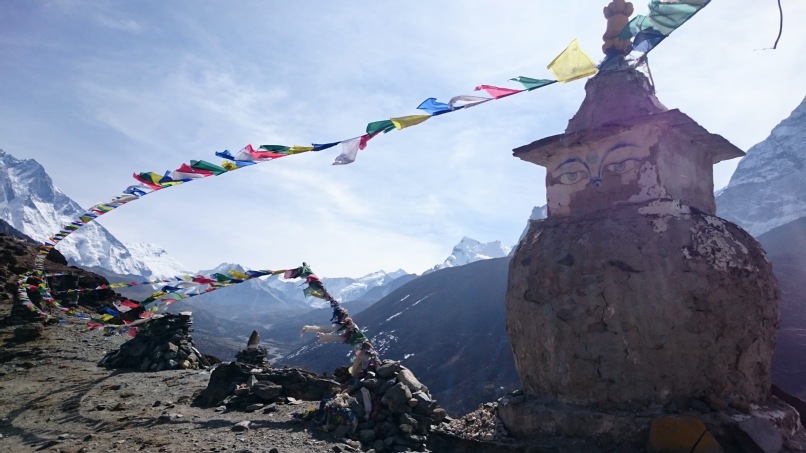 For all the science and the meticulous preparation it's the things outside of my control that will play the biggest part in this. It's a difficult paradox to get my head around. I've been here before, yes, but this time feels different. Identifying and managing the risks involved in Project Everest has been a two-year development cycle working with my partners and support network, yet at night the nerves come to visit. The Himalayas has that effect on me. Here we are reminded of just how insignificant we really are in the shadows of gods…some of the biggest and most incredible mountains on the planet. This is as much a mental challenge as a physical one. I'm writing this blog from Dingbouche at 4,450m/14,600ft in a tea house sat in front of a wood burner that's actually burning yak dung with a coffee and chocolate cake next to me. Bliss. We've spent the day discussing and finalising the data collection protocols for the summit. I might not have long up there so an order of priority as well as maximising my efficiency is critical. Pema Chiri Sherpa will play an important role in assisting me. Part of my acclimatisation strategy involves climbing Pokalde (5,850m) and Island Peak (6,100m) with the full team before we get to Everest Base Camp, these will be important opportunities to 'dry run' the collection with Damian and Nic on hand. When I summit with Pema, we will be on our own in that respect.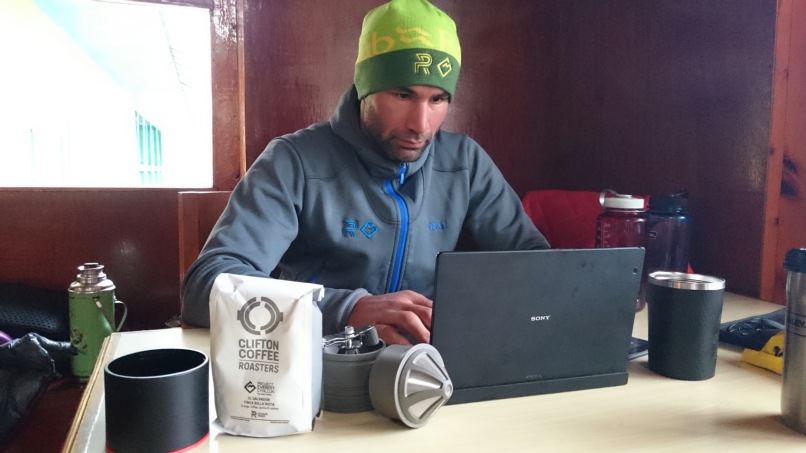 Writing this blog!
Being in the moment is a crucial skill that I've mastered on an expedition, apart from those special moments with loved ones I find it much harder back home, however this project is making that challenging. I wouldn't normally be giving any thought to summit day at this time, only focused on how I feel right now and what the objectives are for this day. My success lies in processing a much wider decision making space yet staying focused on the objective. Maybe that's why this feels different to the other projects? My Solo Antarctica Speed Record was brutal, but simpler in some ways. It normally takes me about 7-10 days to find my groove on an expedition. I'm feeling good here, the initial internal storm is beginning to settle maybe that's why I'm feeling introspective.
After my last blog we left Namche to trek to Debouche (3,700m). The trail is beautiful as you're blessed with views of Everest, Lhotse, Nuptse and Ama Dablam to name just few. As I mentioned earlier we're in the shadows of the gods. If you get a chance listen to '10 feet tall' by my favorite band Fat Freddy's Drop. I was listening to their new album 'Bays' that day thinking of seeing them in Paris at the end of last year. Awesome. I digress! Back to the expedition!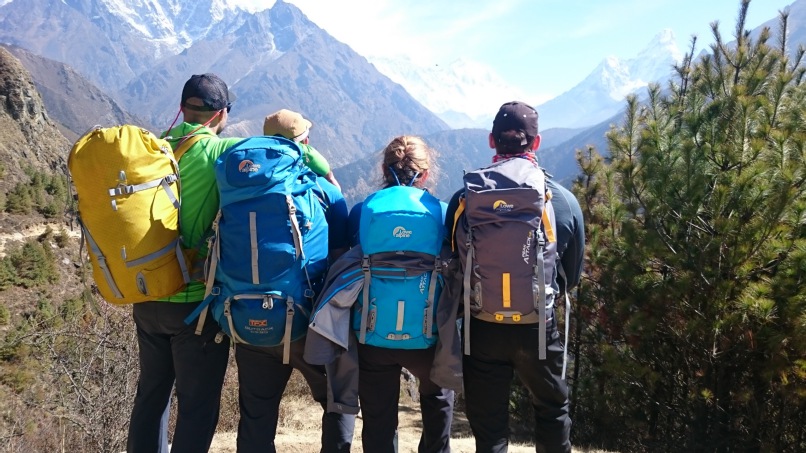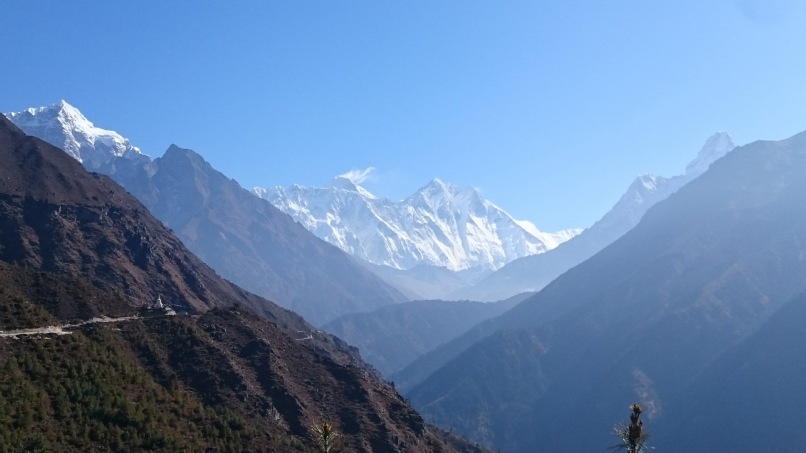 Amazing views of Everest, Lhotse, Nuptse and Ama Dablam.
This part of the project is about acclimatisation and in my experience the better you acclimatise up to 5/6k the better a foundation you have for above. At sea level back home we're breathing 21% oxygen, here in Dingbouche, due the reduced air pressure at this altitude it's approximately the equivalent to breathing 12.5% oxygen at sea level. We adapt to this by increasing the number of oxygen carrying red blood cells along with our respiratory rate. Managing the delicate balance between stressing our bodies to make the adaptation yet allowing enough recovery to enable the adaptation to take place is an art as much as it a science. Already on this trip we've witnessed other teams the wrong side of this balance.
Trekking to Island peak with two professors has been awesome…like a school day every day! If only I knew that Profs were this much fun I wouldn't have been so scared in college! I joked that we were moving like Koala Bears only to be told by Nic (formally The Pocket Rocket, now The Pocket Chef de Mission!) that they're not actually bears but marsupials! Along with Kangaroos! And Damian explained why I seem to want a pee when I get cold…due to increased vasoconstriction and cardiac volume which triggers receptors in the right atrium of the heart to release a chemical which has a diuretic effect on the kidney. I missed out sodium permeability in the descending loop of Henley in the kidney as I can't quite remember! Ha! I put Fat Freddy's Drop on when the two of them started debating heart receptors! Ha! Gareth (our cameraman) and I have very quickly bonded over our love of chocolate cake and chili! We both took the dare from Pema Chiri to try one of his fresh chilies…it didn't end well for me! Gareth took it like a man, I on the other hand fell into a world of pain much to the amusement of the Nepalese crew!
From Debouche we had a tough but our most enjoyable day so far. The 700m altitude gain from 3,700m to 4,450m was a push, but the day was broken with a magical experience. Pema Chiri Sherpa had organised a puja ceremony with Lama Geshe to bless us for the summit. We were welcomed into his home as he blessed not just Pema and myself, but the whole team. He was really cool and pretty funny. He kept laughing at my name bizarrely! It was such a privilege. I'm a religious man, more spiritual maybe, and for all the meticulous attention to detail underpinning this project, Mother Nature and the mountain herself will play the biggest part. I will need a little lady luck!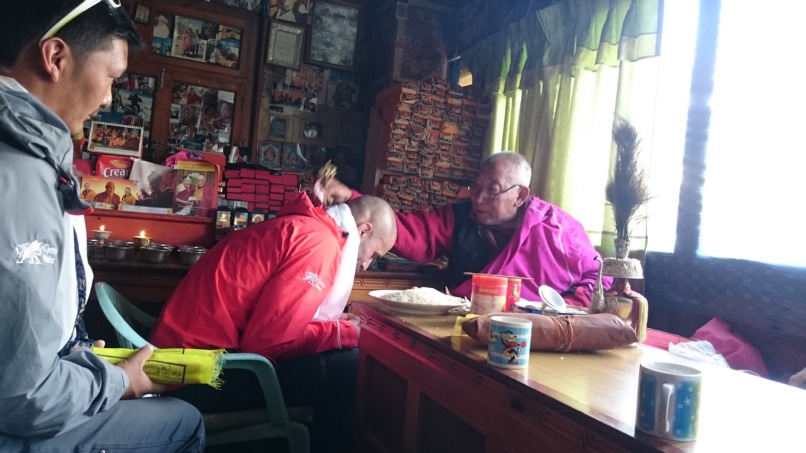 Being blessed by Lama Geshe.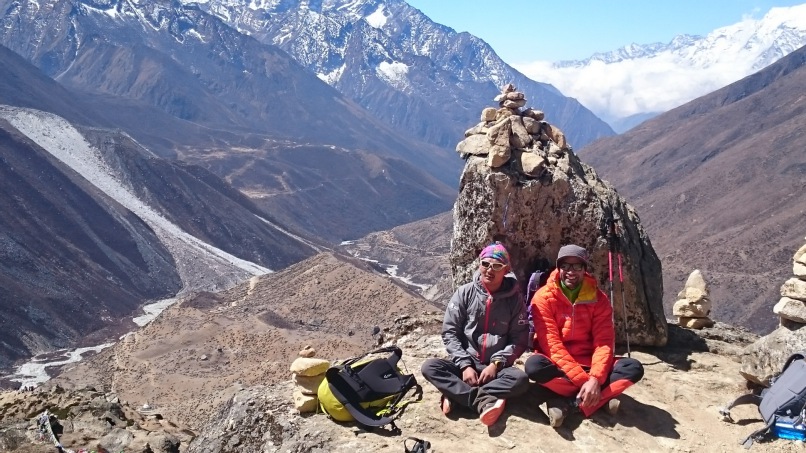 Me and Pema above Dingbouche.
Our second day in Dingbouche was spent finalising the summit collection protocols over our special roasted Clifton Coffee in the warmth of the tea house as the weather closed in and the temperature dropped during the afternoon. I was so happy that we grabbed the opportunity to climb Nagarjung peak 5,098m this morning, it was a lot of fun to share a summit with the boys as we took it in turns to pose! You can be the judge of the pics.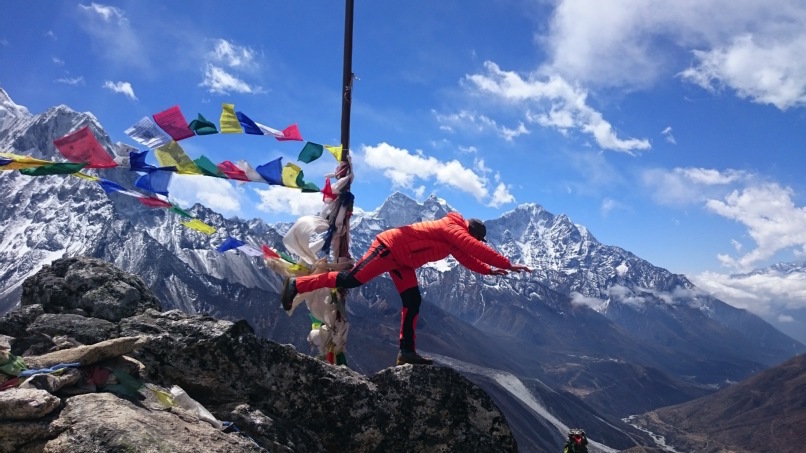 My effort.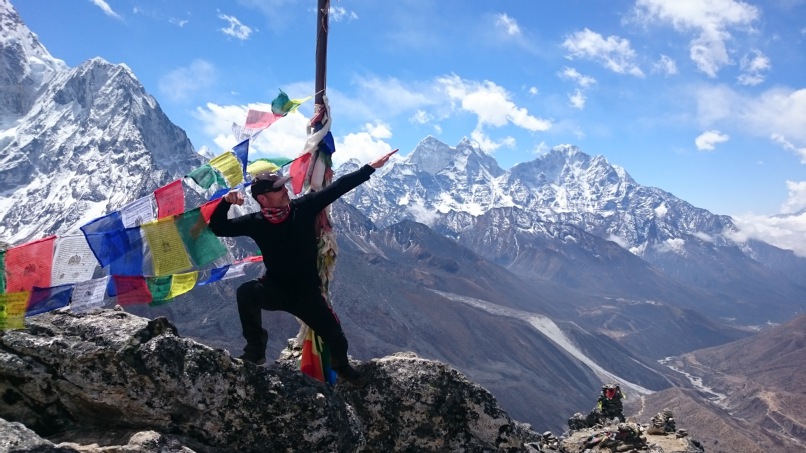 Damian's.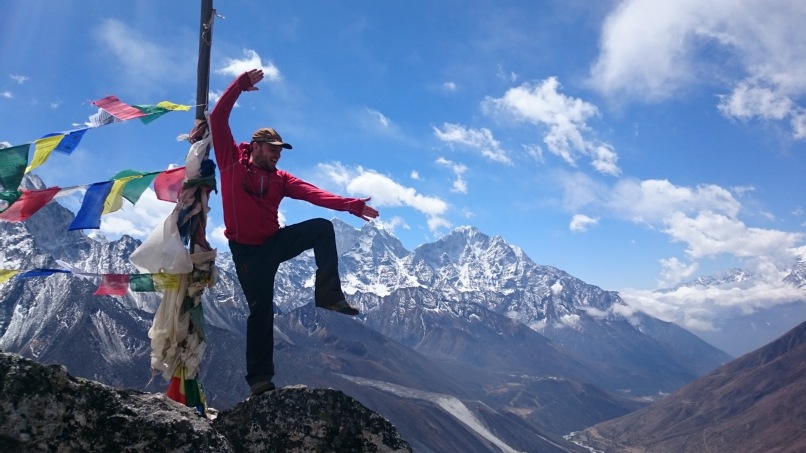 Gareth's effort!
Back to the science; I might not have much time on the summit for a number of reasons, so prioritising the measurements for collection is key. It's wonderful when a team is in sync, as Damian, Nic and I were on the same page from the start as we decided a running order for the following - Arterialised capillary blood sample, muscle biopsy, cognitive function assessment, expired gases, oxygen saturation, body temperature and select aspects autonomic function. Having been there before, I know how important efficiency will be up there, so it's vital that I maximise the 'dead' time in between measurements. We'll use Pokalde and Island Peak to practice and fine tune. Once I've got it dialed I'll share with you what my summit protocols will be in a later blog.
As we've gained in altitude there're more Yaks on the trail. They really are awesome animals, my favorites are the grey ones, however I have at times had to physically restrain Damian from stroking them! Ha! I've met my 'dog missing' match alright! As I find my groove in an expedition and let go of the material things back home, I'm reminded just how lucky we are with internet, hot water, electric, toilet roll – all these things we take for granted but are such a luxury here. In fact there's been a mysterious toilet roll fairy around! Haha! Someone who I won't name keeps leaving their luxury roll in the loos! Needless to say we're all enjoying quilted bum wipes Damian! Cheers mate! It wouldn't be an expedition without some toilet stories.
Tomorrow we move to Pokalde Base Camp. I'm excited to get into my tent. Every day inching higher…
I'm going to finish this blog with saying congratulations to my mate, physio and performance director Prof Nicola Phillips, aka The Pocket Rocket as you'll know from my book! Nic will have publically been announced as the Chef de Mission for Team Wales at the 2018 Gold Coast Commonwealth Games now. I was privileged to have been a part of the Team Wales as Attache in the Glasgow Commonwealth Games under Nic and Brian (Brian Davies OBE) as deputy Chef and Chef respectively and witnessed their leadership first hand. In a very different environment and role to our working relationship on my projects Nic was inspirational in her unique understated way. Team Wales are privileged to have Nic's leadership, I know Nic feels privileged to lead Wales in Australia.
Catch you all soon, Rich.