Richard's blog: First climb to Camp 2 and Remembrance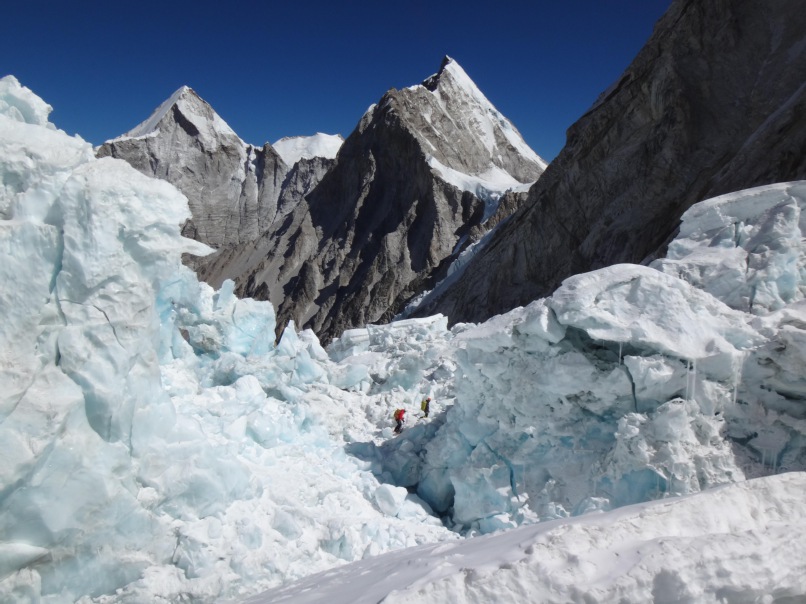 Sat in my tent at Camp 1 with Gareth waiting for the ice to melt listening to the roar of my stove as the tent buckled and shook under 30 knot gusts of wind, I realised just how much I love the simplicity of expedition life. It's hard and it's unforgiving, but the way it strips back the layers of normal life can be wonderful too. It highlights the things and people you care about back home, and also highlights the things that you don't really care about back home! It reminds you what is really important and what we're simply told is important. It's great to be on the mountain and actually begin the climb.
My first rotation on Everest to Camp 2 went well. The climb from Base Camp through the Icefall wasn't as bad as some reports suggested. That's a great example of the pit falls of life at Base Camp - the whispers. The Icefall is steep this year, the route is aggressive, but apart from one section, it's no worse than my experience in 2011. That is relative. It's not a pleasant place to climb anytime, and in the two days that we were above, the route had changed on our way down.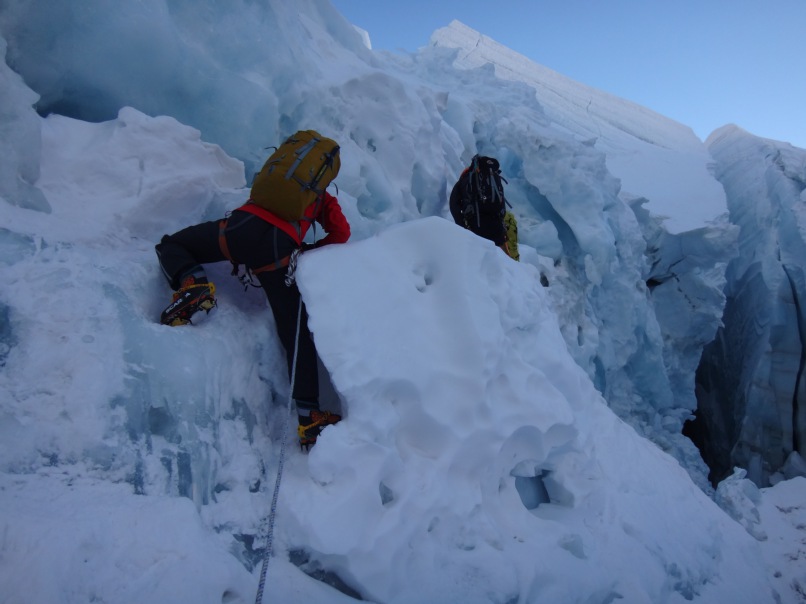 Ladders left hanging as sections of the Icefall had collapsed. The one section that is unsettling is about 20-30 minutes of moving quickly through and over ice boulders – like balancing on rocks at the beach - just that there are some mega drops underneath these here. They are compressed into stability, but being such a dynamic environment you know that at some point they will shift. It's Russian roulette that you're not on or underneath them when they do. There are a lot of teams moving through it, so already the route needs tweaking and repairing. I would like to see an abseil option on some of the vertical ladders to manage teams moving in different directions.  I'm not the guy to dramatise things, this place deserves more reverence than that, but if you want to climb to the top, you have to manage every section with appropriate skill, decision making and humility. Although my strategy limits the times I'll climb through the Icefall, there is no escaping it.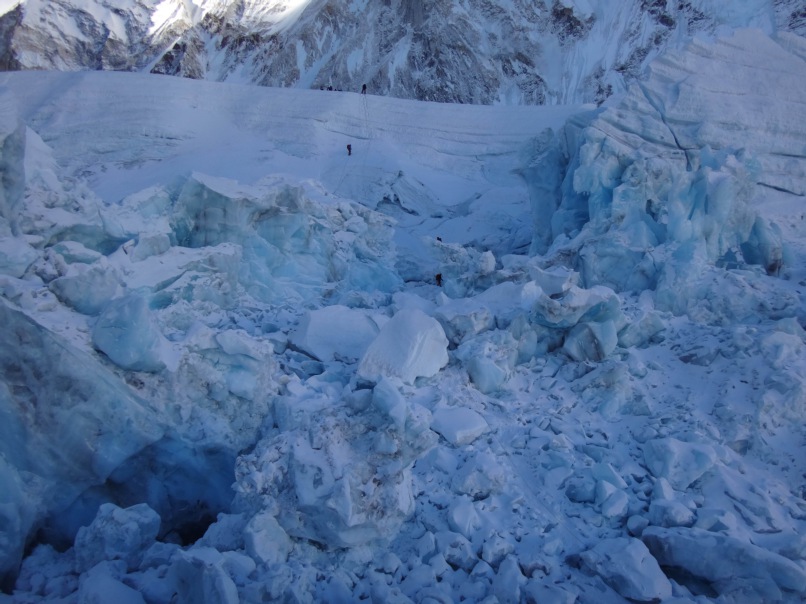 The Icefall.
Camp 1 feels like purgatory. A waiting place to move up. There's no shelter from the winds ripping down the Western Cwm. Pema and I spent a couple of hours building a windbreak wall so that we could go to the toilet safely. An hour or so of work digging and shifting snow and ice at 6,100m, followed by 30 minutes recovering with a brew…just so that we can go to the toilet! It's not for everyone up here, but it is wonderful.
Winds are high on the mountain at the moment. Pema, Sonam, Gareth and I spent some time that afternoon digging the tents in to good effect. After the sun drops the temperature follows closely. At Camp 1 it's about minus 18 degrees celsius. Which means after sunset we hibernate in our Rab Expedition sleeping bags for the best part of 12 hours as our bodies come to terms with the altitude gain, killing time melting ice and drinking. Hydration is key at altitude, but the price you pay is peeing! I chose to carry my Clifton Coffee up instead of my pee bottle. Using the same bottle for coffee, hot chocolate and my pee might seem gross, but it's not the first time I've opted to go light. The coffee is worth it!! Anyway, throughout the night I filled my bottle up 3 times! That's 3 litres to replenish somehow. We woke to our breath and humidity frozen on the outside of our sleeping bags and inside of the tent, yet I was toasty as I would be back home inside! …well not quite! As much as I love my sleeping bag I would choose cwtching at home under the duvet every time! Some of the other teams' empty tents at Camp 1 had collapsed and broken in the winds that night, a little bit of effort when you're f$$$ed to pitch it well means a much better night inside! My OCD is my friend up here!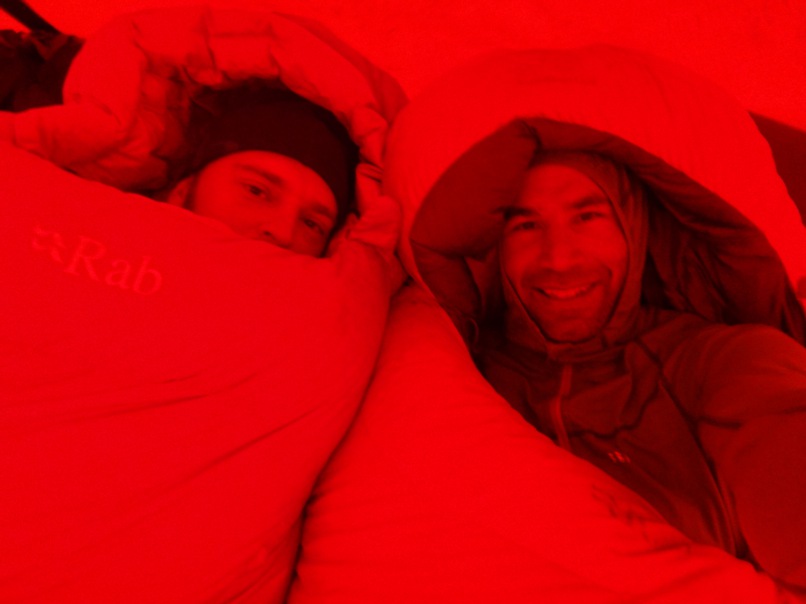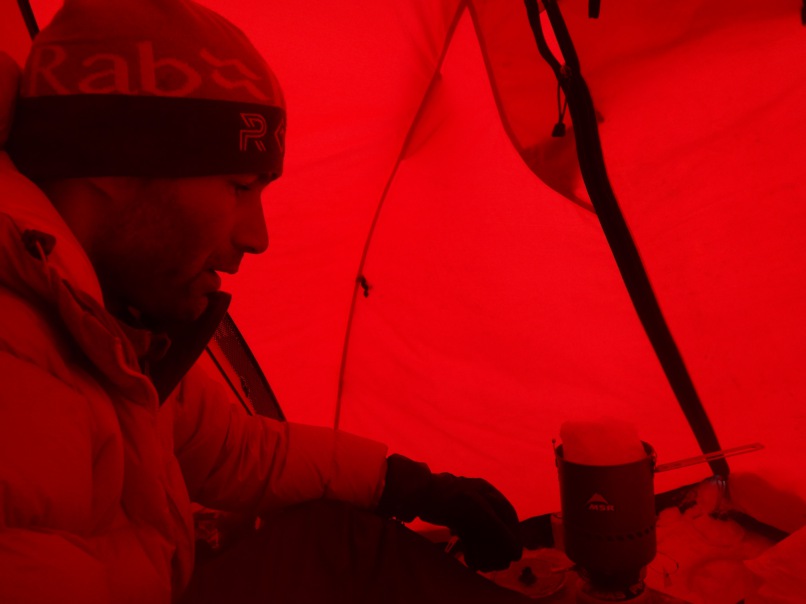 I was happy to leave Camp 1 and climb to Camp 2. Again there's been lots of talk around Base Camp that the route from C1 to C2 is longer than necessary and overly difficult this year. I don't agree. There are a few big walls to climb up straight out of Camp 1 as the route negotiates some big crevasses that have frozen over. The walls are tough, but then you're on Everest! The route zigzags around some other monumental crevasses, but I'd rather this than the 5 ladders tied together in 2011.
There are quite a few ladder crossings between Base Camp and Camp 2 but none bigger than 2 ladders tied together at the moment. The route and ladders need constant management by the Icefall Doctors (the Nepalese climbing team responsible for management of the route) and already need some improvements. There are a couple of vertical 4 ladder sections on the route underneath Camp 2, but they don't bother me as much as the horizontal ones having to look down at the abyss underneath as you balance your crampons on the rungs!
The Western Cwm above the Icefall is where you get the first sight of the Lhotse Face. I've been looking forward to seeing her again! There's a lot of bare ice on her at the moment as a result of it being a relatively dry season.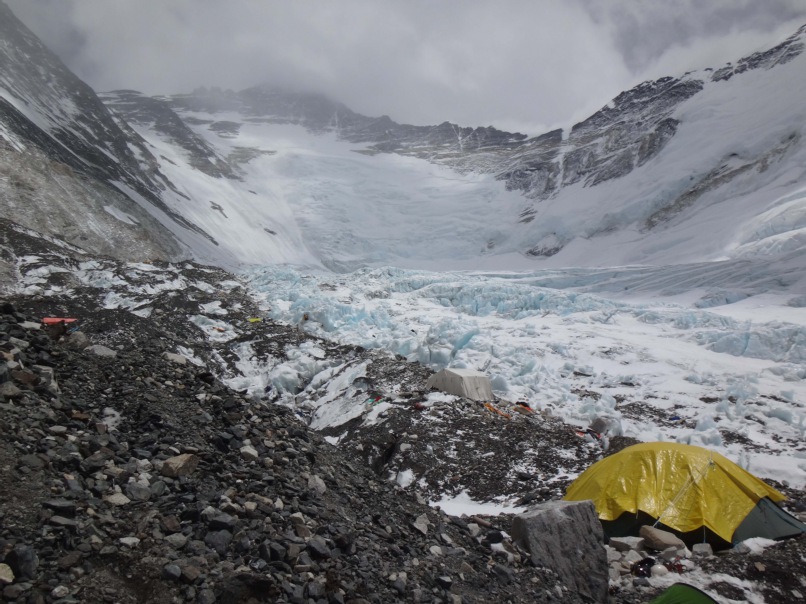 My first sight of the Lhotse Face from Camp 2.
The forecast says we'll have some precipitation when the winds drop which would be good. The ropes for the route above Camp 2 are in place and teams have been waiting for a good weather window with safer winds to fix the route to Camp 3 and above. It's imminent though, I've heard a rumour that they've started today which is great for me.
Camp 2 is great. Jagged Globe have got such a great operation here and I'm proud to be a part of it again. It's perched into the medial moraine at 6,400m/21,000ft not far from the foot of the Lhotse Face, but it's comfortable. It'll be a great place to base myself for my next longer rotation.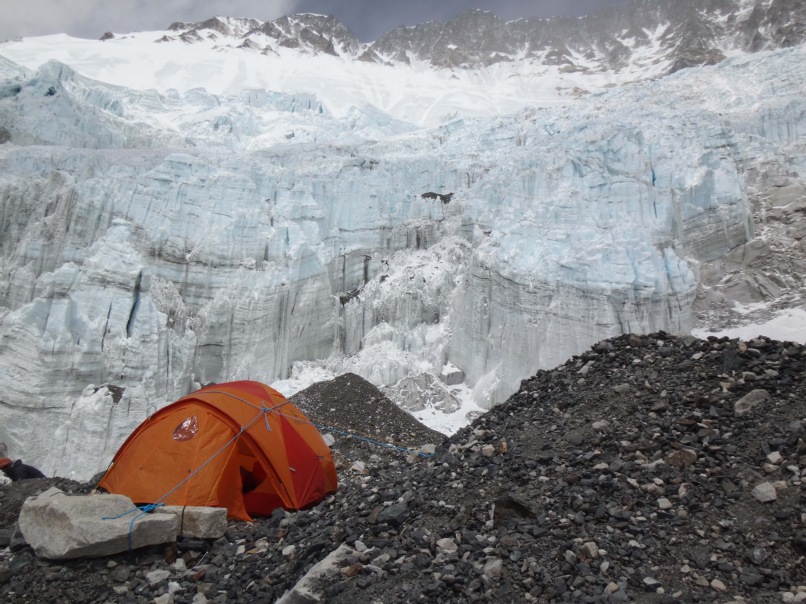 Camp 2 on Everest.
I plan to stay above the Icefall for 17 days next time. It's also a very sobering place as it's built on the debris of last years multiple avalanches triggered by the Nepalese earthquake with bits of broken tent frozen into the ice and rock.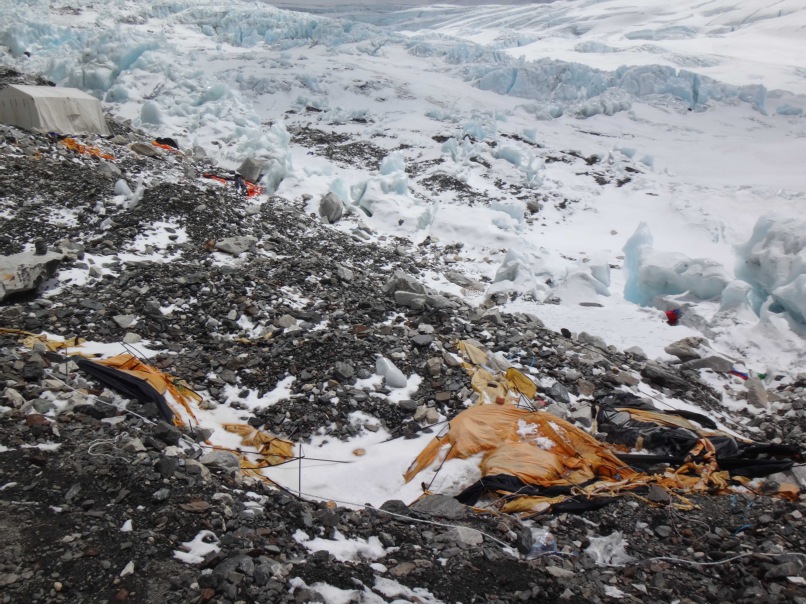 Debris at Camp 2 from last year's avalanche.
For so many incredible humans and teams here on the mountain, there seem to be many people here oblivious to the constant threat and the sobering tragedy of last year. Although I wasn't involved, it's very clear to me from talking to those that were, just how huge an impact it's had on their lives. At Jagged Globe we took part in a minute's silence today along with some of the other affected teams and Everest ER to remember those affected and those who lost their lives. I'm sure some choose not to dwell on it for their own reasons, but I feel that it's very important to remember. It's a very unique microcosm here at Base Camp. I'm proud to be performing in Nepal again and I'm proud of the filming integrity that Gareth and I are displaying. As I said before sharing this expedition with you is my privilege.
Anyway I digress, My objective is working as far away from my threshold as possible. It's the basis for every minute of conditioning of the last 18 months or so with Nic. It's much easier for my body to adapt internally to a given altitude if it doesn't have to manage a huge deficit in actually having to get there. I'm asking a lot of my body to perform in 10, 9, 8 and ultimately 7% oxygen on the summit. The equation to work underneath my threshold will be pushed as I climb higher above 7,000m, but it's always been a philosophy in extreme environments to prepare to work no higher than 80%, leaving a safety margin for the unforeseen. Case in point…when a serac collapsed in one of the gullies in the Western Cwm triggering a small avalanche whilst we climbed to Camp 2. I had no issue with running to safety to avoid the snow cloud. It was inconsequential in the end, although significant and bloody scary, we were in relative safety.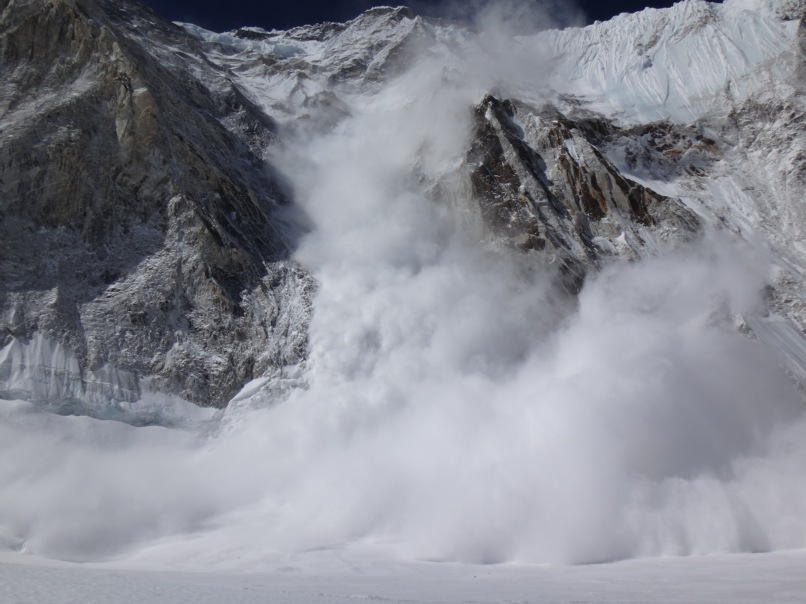 Avalanche in the Western Cwm.
Had I been maxed out though, there would've been no way I could've changed gear to get to safety. The same goes for having the cognitive capacity to make the right decisions with minimal impact from fatigue. The hypoxia is a different challenge when it comes to cognition. There are no shortcuts, but I'm reaping the rewards now of all the hours, blood, sweat and some tears in Sport Wales, GSK Human Performance Lab and the University of South Wales over the last 18 months.
It's not really rocket science, but it is hard work. I've been really interested to know the results of my Axon/GSK HPL cognitive assessments, and the other tests to see how I'm adapting at this stage. But I made the decision not to know for all the right reasons. I have another day here at Base Camp recovering before I climb again. Today I've done my washing, had a shower, shave and written this.
My next rotation will be tough – 17 nights above the Icefall, 10 at Camp 2, 7 at Camp 3, culminating with 2 climbs to the South Col and above 8,000m. I'm confident and ready, but humble to the task I've set myself. One day at a time. I'm really excited at the opportunity to collect data at the South Col or above this time. We've made the decision for me to collect the full battery of tests on this rotation to complement my summit bid. Biopsy, bloods and cognition tests. The summit data is the ultimate adventure but with so many factors outside of my control that could play a part, it's prudent to collect this highly publishable data. Nic is poised to piece me back together for my summit bid after the next rotation and data collection here at Base Camp.
You'll hear from Nic and Damian, and I'll send through daily updates, but have an awesome bank holiday weekend back home. Thank you for taking the time to read my blogs, and have a drink or piece of cake for me!
Pic at top of page: Richard working his way through the infamous Khumbu Icefall.