Richard's Blog: Arrived at Everest Base Camp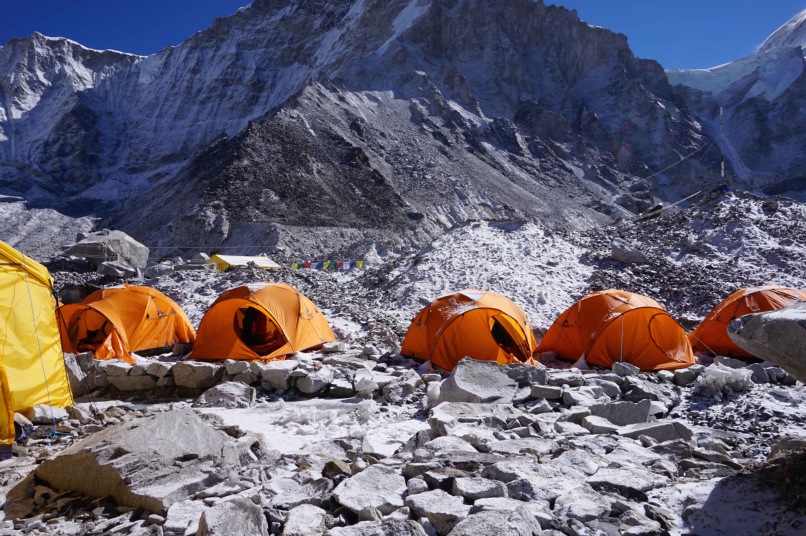 Hi Guys!
Arrived at Everest Base Camp, which is great. The Jagged Globe base is fantastic as always. I'm sat in the Project Everest Cynllun tent, which is one of my proudest moments. It's the manifestation of all the hard work. It's a lab and a den!
We've hung prayer flags and project flags inside and a Welsh, Union Jack and Project Everest Cynllun flag outside. It's so pimp! It's a little bit away from the rest of the camp so it's private too. More pics will follow soon!
The Icefall is particularly fluid this year. Already parts of the route have collapsed and ladders are left hanging there. It's also particularly steep. Although I'm acclimatised higher than the Jagged Globe team as I've climbed island peak at 6189m, they have been in the Icefall twice to 5800m. The guys that have been here before say it's not nice. This all fits in perfectly with my plan to only climb it twice. But every time you're in it, it's Russian roulette.
There is a meeting tomorrow between the main teams to decide on a strategy on fixing the route above camp 2, at the moment it's not been fixed. The outcome of that will influence when I climb to camp 2. There's no point in moving up if I can't climb to camp 3 or the South Col (camp 4). I'm feeling good and patient.
It was very cold last night with snowfall. I woke this morning with ice on the outside of my sleeping bag and on the inside of my tent. It's great to be here though. It all feels real now...I'm glad the first chapter is in my rear view and acclimatisation and testing so far has gone well.
As many of you will already know, Jagged Globe are my logistics partner to many of my expeditions, including my 737 Challenge and of course this current expedition. The Jagged Globe Everest team this year are awesome. It's a small team (less teams on the mountain this year after last year's earthquake) consisting of 4 climbers; Mary Scannell who has not been to Everest before, Steve Waterman who was with Jagged Globe in 2014, Ian Mitchell who was also with Jagged Globe in 2014 and Nick Talbot who has been on Everest in 2014 and '15. Nick has cystic fibrosis and is climbing for the cystic fibrosis trust.
Then there's David Hamilton - team leader, who was also my team leader when I summited Everest in 2011, Rachel Tullett – Base Camp Manager and Ant Dubber - Chef. David and his team, as always are writing their own blogs so you can also follow how the Jagged Globe team are progressing by following their Everest blogs here.
My itinerary will be slightly different to theirs but it's been great to meet and chat to the team, just as much as it's awesome to have our own little Project Everest Cynllun hub!
As we are just getting settled in, I'll be back in touch soon. Speak soon guys. Rich.