Richard's Blog: The Icefall, ladders and high winds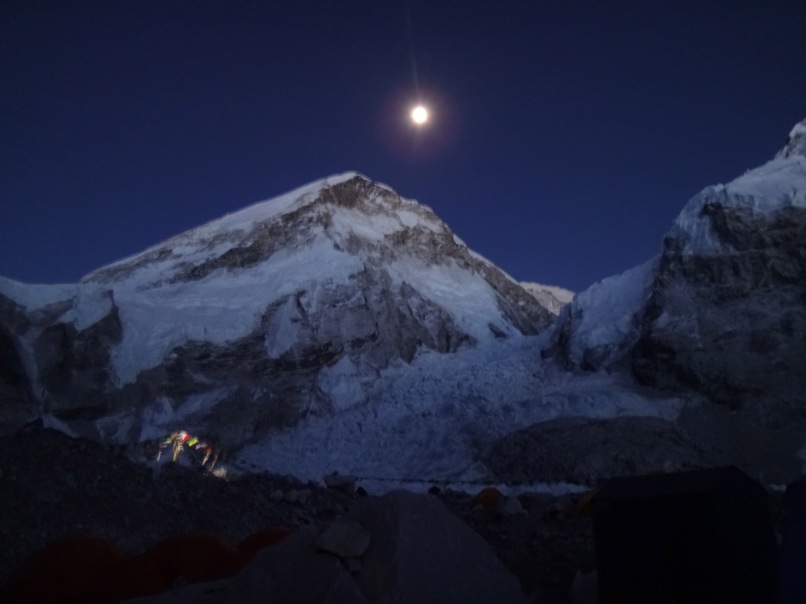 Camp 2 was a productive exercise. There's been so much talk of the Icefall being tough and dangerous this year. I didn't think so. It's steep, with a lot of front point climbing (the very front spikes on my crampons) but I liked it. Compared to 2011, there are less ladder crossings with only one really dangerous section. Moving quickly about 30 minutes of Russian roulette through very dynamic and unstable ice boulders. In only 2 days the route had collapsed from when I went up. It's 5 hours of very hard work, but I think its safer. The same can be said from Camp 1 to Camp 2, the route is longer with some steep climbs but the longest ladder crossing is 2 ladders tied together which compared to 5 ladders tied together in 2011 is a safer option.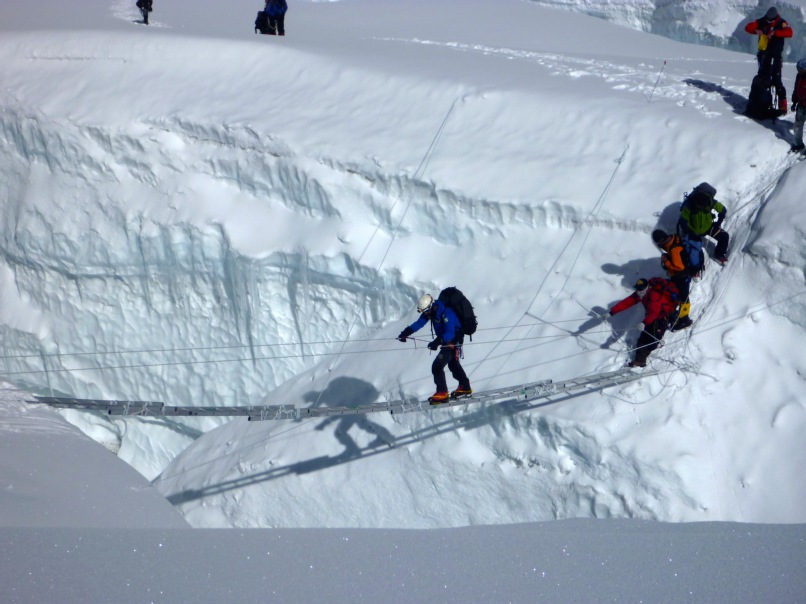 Richard crossing 5 ladders over a crevasse in 2011.
Camp 2 is basic, but great. It's built on top of the debris from the earthquake last year which is sobering (ruined tents etc everywhere frozen into the rock and ice) but it's a good place to base my work out of.
The winds have been very high, gusting over 80 knots. Enough to pick you off your feet. When we climbed out of Camp 1 many of the surrounding tents had been demolished. No wonder I didn't sleep a wink as the tent buckled under the strain. Camp 2 is a little more sheltered, but the ropes won't be fixed to Camp 3 until its safe to do so. Probably 27th-29th April? This is why I took the opportunity to stay at Camp 2 early. My plan is to have 2 full days rest here in Base Camp and climb to Camp 1 on the 27th and Camp 2 on the 28th to co-ordinate with the rope fixing teams to move higher.
I feel good. Well as good as life at 6,400m can feel! I'll write a longer blog tomorrow with some pictures. There's a minute silence tomorrow at 11:56, exactly one year on from when the earthquake/avalanche hit base camp.
Speak soon guys. Rich.
Pic at top of page: The Icefall by moonlight from Base Camp.