737 Challenge - 16th August 2011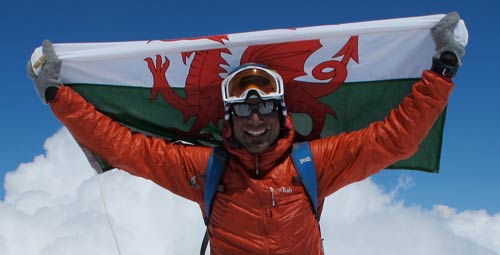 It's been a few weeks since I last did my diary really sorry my feet still haven't touched the ground since I got back.
On the 4th I did my first ever live webchat. I went in to Media Wales, one of my media partners to do it. I really enjoyed it, it was very different to all the other interviews I had already done and it was really good to share the challenge intimately with everyone. People were commenting on how fast I was typing but my 2 finger typing wouldn't have cut the mustard so it was down to Paul to save the day!
The last 737 Challenge club was held that night and it was great to see some familiar faces and not so familiar, now…(I know I need to let this go) I am still reeling at drawing out my own ticket in the raffle, winning the Rab jacket and having to give it away ha!
I've got an awesome new Audi to drive! I want to say a massive thank you to Gavin Cleverly at Mon Motors Audi not just for their support throughout the challenge as one of my sponsors but especially for lending me a brand new Audi A4 allroad. To fund part of the challenge I have had to sell my truck and without my new car I simply wouldn't be able to get around the country fundraising.
It's been a long time since I have had to drive a car, and it showed as for the entire drive up to Leeds I had to regress to 2 hands on the steering wheel, 10 to 2 all the way!
Every day is like Christmas as I find a new button and a new gadget in the car, it properly rocks.
I had a manic but really awesome day back in Leeds doing press stuff and seeing everyone back at Headingley. We did loads of radio, TV and newspapers and it was pretty much non-stop from 10am - 7pm.
As soon as I arrived in Leeds memories of my time there came flooding back to me, although not all my memories as I got lost on the one-way system! I sincerely loved my time in Yorkshire playing for Leeds and it was great to see lots of old friends…and it was even sunny!!
Then it was a quick dash up to Kendall to meet some of the guys from Rab, Mountain Boot Company and the Kendall Mountain Festival. Meeting the guys at the Kendall outdoor retail show was like gear porn for me, I even managed to pick up a few pressies!
Then it was on the road again back down to Portsmouth via lunch at Jagged Globe. The other Parksy is off again to Cho Oyu at the end of the month, I am really excited for him but wish I was going too, in fact that really made me realise quite how stir crazy I am going not being able to train or climb. On that note my toe is lived up to the name Lazarus and is slowly coming back from the dead! It's improving every day, apart from when I stub it and knock off the scabs! It's improving all the time, but not quick enough for Mr Impatient over here.
I went back to the University of Portsmouth where I did my cold-water immersion testing last year in my training for the challenge. After a quick stop at the University, this time keeping out of the cold water tank and keeping my clothes, I did some radio interviews then it was a rare chance for me to catch up with some friends and unwind in a restaurant in Gunwharf whilst looking up at the yellow Spinnaker Tower which was genuinely amazing! They turned it yellow to support my challenge and Marie Curie Cancer Care to help raise the profile of my fundraising, which was awesome.
A pretty good week only just got better – as Saturday I was invited as a guest of honour to the Wales v England game which in it's own right is a huge honour but the day was made really special by the WRU for not just inviting me but my parents and all the challenge team. It was a wicked day, a huge honour to be there but I also had a really fun time. Met some cool people, got a chance to hang out in the box with the 737 Challenge team and my mates and I really enjoyed being at the game and watching Wales win. I am really grateful for the WRU for inviting everyone and it was amazing being received by the fans but what was really cool about it as that we were all there together.
Sunday was my Birthday. When Mum and Dad asked me what I wanted for my birthday my honest answer was a lie in!! and my day was exactly what I wanted, it was perfect. I got out of bed just after midday, no washing or putting any pants on! Got in my tracksuit bottoms and went down to the supermarket and brought loads of BBQ food, BBQ'd in the afternoon, stopping Ben my dog steeling sausages from the BBQ and then watched movies with my folks for the rest of the day and I had my phone off! Was perfect!
There's still lots going on and my diary is still as busy as ever going in to the next few weeks. I am looking forward to going back to Sardis Road to Pontypridd this week, and then it's gonna be interesting going to Paris on Sunday for a press day in Paris Monday, if it wasn't nerve-wracking enough to do interviews on British TV, now I have to do it in French on French TV too!

After that I am off on holiday for 10 days, I finally get a chance to rest and reflect, can't wait!
Last but certainly not least I am really looking forward to the Gala Dinner on the 15th September and finding Ben a tuxedo suit to try and sneak him in!!!