737 Challenge Gala Dinner raises over £9,000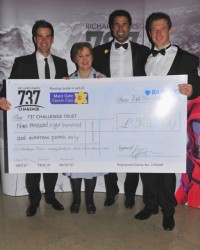 Last night saw Richard Parks' 737 Challenge hold a spectacular Gala Dinner at National Museum Cardiff as the days count down to Richard setting off on his world first 737 Challenge. The night raised an incredible £9,819 for the 737 Challenge, which is raising funds in aid of Marie Curie Cancer Care.
TV star Gethin Jones hosted the Gala Dinner, which saw inspirational and emotive speeches from Steve Williams OBE who is joining Richard for the North Pole and Everest legs of the challenge and Jan Suart, a Marie Curie nurse who is climbing Kilimanjaro with Richard. Guests and bidders donated generously as the dinner's amazing prizes were snapped up in the Silent Auction and Gala Raffle, whilst the Cardiff Arms Park Male Voice Choir and Big Mac Wholly Sound band entertained the guests.
It was an emotional night for Richard who was humbled by the amazing donations made by guests and the fantastic send off he received; "It's not often I am lost for words but last night was one of those occasions! Trying to put into words about how grateful I was to everyone was really difficult. To raise nearly £10,000 was simply awesome and I can not thank everyone enough who came to support my big send off". He added; "I'd like to thank all my family, friends, team, businesses and individuals who purchased tickets for the event and all the people who donated prizes for the night. I'd also like to say a huge thank you to Gethin Jones, who hosted the night brilliantly and to Steve and Janet for their inspirational words. It was a fantastic send off, everyone had a great time and was most certainly a night I shall never forget".
A special look back at the night with more pictures and details will be here on 737challenge.com soon. Pic by Philip Davies Photography.