737 Challenge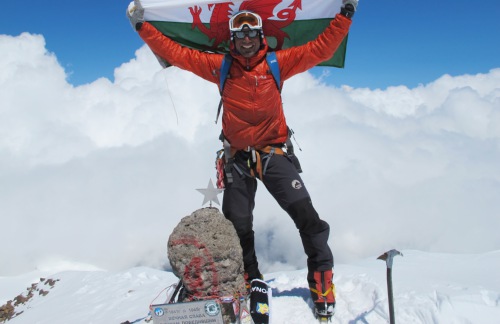 Hey guys, I have been a bit quiet since Denali as I have not been feeling too good. As well as taking time to recover from the expedition, the last 2 years have finally caught up with me and I have not been able to escape the fact that I have needed to recharge physically, mentally and emotionally.
Most people would normally take months to recover from any one of the 9 legs of the challenge and since completing the world first in July last year my schedule has been non stop with the other part of the 737 Challenge which is the fundraising, appearance and media work. I have only had a few days off and I have been pretty much in denial about how long I've been able to maintain the schedule, eventually it caught up with me!
In no way am I wanting to sound like I am moaning, I am incredibly grateful for all the experiences over the last 2 years and would go through every second again in a heartbeat, I have loved the journey, and now I am just taking some time to recharge and reflect on the last couple of the years. Writing my book has been really helpful and cathartic actually and it's kept me pretty busy. With planning fully underway for Project X in 2013/2014 I am really looking forward to the final stages of tests and development later in the year on my solo expedition skiing from Hercules Inlet to the Geographic South Pole in Antarctica. It's vital for the success and safety of the project that I get fit and strong again soon, for that reason, sadly I have had to pull out of leading the 737 Challenge Kilimanjaro Fundraising trek with Jagged Globe in September.
On a more positive note, I have just broken the news to the lucky winner of our Audi A1 competition, kindly donated by Mon Motors Audi. She was pretty surprised and excited and we will be announcing the winner soon, so I guess if you are reading and you haven't had a call from me then you are not the winner, sorry!! I'd like to say thank you so much to the Mon Motors Group and everyone who entered helping me raise further funds in aid of Marie Curie Cancer Care. Your support, as always has been overwhelming and amazing.
I've also been writing a food test article with my Denali climbing partner Nikki Skinner for next month's edition of Trek & Mountain magazine. We did a dehydrated meals test on Denali, it was good having to write notes, it kept me and Nikki occupied stuck at 5,200m in a typical Alaskan storm, although I wasn't saying that when the pen froze!
There's plenty happening over here, as always, and hopefully soon I'll be able to announce some new ambassadorial roles/sponsorships, a new schools program initiative, my new website and the sale of my 737 Challenge BBC Wales documentary to international and national networks, plus lots more!
I've started easing myself back into training after 8 weeks of forced rest! I'm a rubbish patient and although I feel much better for the recovery, it's been tough being disciplined not to train. Especially during all the inspirational and awesome performances from the GB athletes during the Olympics. My favorites were the Brownlee brothers in the Triathlon, Bradley Wiggins in the TT, Mo Farah in his double, Lizzie Armitstead in the Cycling Road Race (having only started 4 years ago!), Nicola Adams in the Flyweight Boxing, Andrew Osagie's amazing run behind the incredible David Rudisha in the 800m final and Wales' Jade Jones in the Taekwondo. Although it was awesome watching everyone from the volunteers to the athletes, they did Great Briton proud. I've always been proud to be Welsh and British, but our Olympics surpassed my expectations. I'm amped for the Paralympics now. #superhumans
I could ramble on, you know me guys! But I've got to prep for a speaking event in Scotland before I leave for my hols in Sicily on Sunday. I can't wait! It started off as a chillaxing holiday but has evolved into a cycling adventure around the island! Ooops! Panniers included! Well...I'll still enjoy the beach too!
Thank you guys. Your support and faith throughout the last 2 years has been key to me, keeping me going during the dark times and it's been very much together that we have supported the Marie Curie Cancer Care Charity. You guys rock. This is the just beginning of our journey together...Antarctica again soon.
Until then, safe travels and adventures.
Rich