Antarctica Blog - Back in Punta - 27th January 2013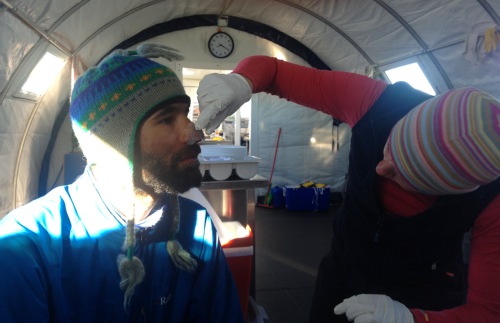 On Friday I was picked up by twin otter plane on the ice.  There was a bit of liaising with the pilots to do and some discussion as to whether they could land at my location but on Friday conditions were good and they were able to land and pick me up.  Conditions on Friday were the warmest I had experienced for some time.  That week in the twilight zone as I have named it was one of the coldest experiences I have had, everything was really challenging, I knew it was cold but I didn't know the exact ambient temperature but on Friday when the pilots collected me it was the best weather conditions I have had for a while and was the warmest I had felt for a while.  I was shocked when the pilot told me the ambient temperature was -27c, which means that for about a week it had probably been around or below -30c consistently.
As we flew back to Union Glacier Base Camp, flying back over the ice for 4½ hours, it really blew my mind how far I had come in 39 days.  When you are on ice and on the sastrugi you have blinkers on, are just focused on shadows, navigation, and on one small goal at a time but flying over the expanse of white for so long put it in perspective about how far I had skied.
When I landed back at Union Glacier and got off the plane, David Hamilton who led my Everest expedition during the 737 Challenge and has become a good friend was there and he literally had to usher me from the pane.  It was overwhelming seeing everyone who were all being so nice but I was just like a rabbit in the headlights.
David literally held my hand, took me to the tent and fed me, the doc Lucy treated my nose, dressed it and then it just so happened the Iluyshin was flying that day off Antarctica back to Punta Arenas in Chile.  So within 5-6 hours of being on my own in the middle of nowhere I was on a plane back to Chile and within 10 hours I was in a hotel back in civilisation!   It was a massive culture shock, it wasn't ideal, probably having a few days in Union Glacier would have been better to reset a little, in some ways it was good, in some ways it was bad.  That night it was hard to fall asleep.  It felt really strange, it was the first time I had seen darkness for around 40 days after being in 24-hour sunlight, at first it was hard to sleep but then eventually I did.
I woke up, saw the doc, redressed my nose, got some medication, weighed myself and had a mini medical.  I then looked in the mirror for the first time at myself and it blew my mind.  I didn't look like myself.  I have lost between 13 and 15kg – about 2½ stone.
I unzipped my pulk but couldn't face unpacking anything so I went in to town and it took me 2 hours to buy pants and socks, it was like everything was in slow motion.  Went back to bed and then a few of the guys came and got me to go out for something to eat with a few of the ALE crew which was good, as I probably would have just stayed in bed and not eaten.  I had some food, went back to bed, slept and woke up this morning feeling a little bit better today.  Spoke to Roy Noble on BBC Radio Wales and went back to sleep.  I feel like one of the snow globes that people shake. Physically I am so weak.  Mentally I am starting to get better but physically I feel weak.
I am only just starting to sort my gear.  My pulk went straight from the ice to here.  I've still got all my stuff in it, including some poo.
The first meal I had off the ice was on the twin otter plane – a ham and cheese sandwich!  It's bizarre as I spent the best part of 40 days trying desperately hard not to think about food and what I wanted to eat and the reality of being here and eating of all the foods I wanted isn't quite as wonderful as I thought it would be.  Eating a big meal is quite hard and I get a bit nauseous after eating as my body is still getting used to it.
The expedition opened and closed many doors in my mind which needed attention and although I feel like a snow globe that's been shook and the reality of being back and not on the ice has hit me, and of course I am genuinely gutted that the objective wasn't achieved, I feel at peace I made the right decision.
The experience has been an incredible one.  It's been one of the toughest things I have done but also one of the most rewarding.  There were moments out there in the wilderness, whether it be the reflection of snow crystals on the ground making it look like I am skiing on diamonds, or the reflections of the crystals in the air to create a Quad Helix, or that incredible day when it broke from a whiteout in to blue sky signalling the dawn of a new year - this expedition seems to have stirred up a lot of emotions for me.
Only time will tell what effects and how long the effects will be but at the moment I am still struggling to do just the smallest of things.  I am writing this with gear covering the floor not able to face sorting it.  I feel torn.  Part of me misses the simplicity and purity of the expedition and part of me desperately wants to get home to see loved ones.
Still my overriding feeling is gratitude.
Although I have a lot of my messages from Twitter, Facebook and emails forwarded to me and I am aware and so grateful for all the support, I haven't been able to read all your incredible messages but I promise I will get through every one as they are so important to me.
Right now, it's more gear sorting avoidance, I am going to pop out and grab something to eat and then head back to bed.
Night guys.