Antarctica Blog - Day 26 - 12th January 2013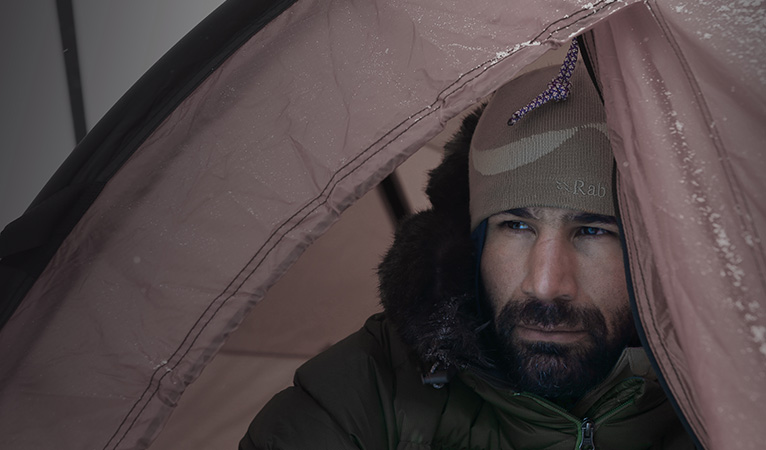 Morning guys.  It's been a tough couple of days but rewarding.  Thursday I woke up and changed my clothing system a little as it's starting to get significantly colder and I wore my Rab Strata Jacket.  It's a new windproof insulated jacket that Rab have asked me to test out here. I'm not sure if it's in the shops yet or due to be in the shops, but it is absolutely amazing!  It's close to being my favourite item other than my Vapour-rise Lite – which I have had on every day as a base layer or a single later which has also been amazing.  I used the Vapour-rise throughout my 737 Challenge, I love it, but my Strata jacket is awesome.  It's designed to have active insulation so you have insulation when you are performing, it was like somehow I never overheated but I never got cold.  I don't know how the fairies at Rab have designed it or made it but it is just awesome.
So Thursday was really cold but amazing under foot.  In the morning I had my first tab of 2 hours skiing out of the sastrugi and then hit a little bit of a plateau and things were good under foot towards the end of the day.  The sastrugi is not epically big or maybe it's just that I have no reference on this journey to compare to, but I know what is big and what isn't, it's consistent really and very dense which has made it difficult, but I got through that in the morning and then I had a good 4 hours making some good km at end of day.  I hit a bit of a headwind as I hit an incline.  Pitching the tent on my own in the wind is challenging but that's why I went through so many tent tests in the build up to this to get this right.
I skied for 9½ hours and covered 32.5km/20 miles/17.54 nautical miles.
My hashtag for Thursday was #neednewlegs
Yesterday
I had a really cold night, which is ominous and it was cold in the tent when I woke up yesterday morning.  The light was really flat and I had no solar radiation warming the tent but I had breakfast, packed up and started skiing in my new clothing systems of my vapour-rise layer and Strata jacket on top.  I started skiing the first 2 hours and light was really flat.  When it is like that it is really challenging as you can't see the undulations, can't see shadows, can't see your feet and have no idea what your ski's are doing but I'm at the point in the expedition where I can't stop now, I simply haven't got the luxury to rest.
After 2 hours, flat light turned to a complete whiteout.  I lost the horizon, lost everything, but the conditions under foot were really good.  I climbed then it flattened out a bit, I climbed, then it flattened out a bit and so on.
Although it was a whiteout and I couldn't see a thing, I had my GPS strapped to my chest harness so I just grit my teeth and carried on.  My systems are really good, my glove systems are good, my face mask etc, I said to myself as long as I feel comfortable temperature wise and safety wise, I am just gonna keep skiing.
I basically skied all day in a white box!  It went from flat light to whiteout constantly.  It was a real hit to the senses not being about to see anything for such a long period, at times I was feeling a little bit wobbly, at other times I was thinking I had skied for 2km and then when I looked at my GPS I had only done 300m and then other times I thought I had done only a few metres and I had actually done 3km.
I skied for 10 hours yesterday as I wanted to keep the k's up and keep momentum.  I skied 32.2km/20 miles/17.38 nautical miles.
Pitching the tent last night was windy.  Yesterday I started with a headwind, then I had a tailwind, and don't worry I am still skiing in the right direction - I'm still skiing south!  The tent I have is a tunnel tent so there is quite a specific way to pitch the tent and as I pitched last night it was still a complete whiteout, it was hard to even find a place to pitch as I couldn't even see what bit was flat.
By the time I got in it was freezing cold, I made a hot water bottle out of my nalgene and had spaghetti bolognese in my bag...and it was bloody heaven!  As soon as I ate my meal and melted my water I passed out in my bag.  Although yesterday was one of the toughest days it was one of the most rewarding days, it was the best feeling last night.
I feel like it was one of the most significant days of my whole expedition.   Had I sat that out, I would have been under a lot of pressure.  It felt like all the minutes I have spent designing my kit with Rab, my food with Fuizion, adapting my MSR stove, all the things I have done to make things more efficient, all the training I have done, all the messages of support -  everything came in to play yesterday to enable me to do 32km in poor conditions.  Yesterday was definitely the best day of the expedition so far.
My hashtag for yesterday is #satisfactionisproportionaltoeffort
I woke up in the middle of the night last night really hot! The tent is really warm this morning, I haven't looked out yet but I know that the sun is out and conditions are good so I am back to sitting in the tent in just my pants eating breakfast!  This morning I have scrambled egg, bacon and mushrooms and coffee as always.
I don't normally do morning hashtags but today is #smileandyougofaster
Another milestone - I filled up my expedition log sheet I am officially on my second logsheet!  Altitude wise I am currently at 1,873m. Yesterday I crossed the 86 degree line of latitude and I am hoping tomorrow I will get in to 87 degrees.
Have a good day guys!  Rich.
Expedition total km/miles skied to date: 762.72km/473miles.  
Expedition hours spent skiing to date: 215.45