Antarctica Blog - Day 21 - 7th January 2013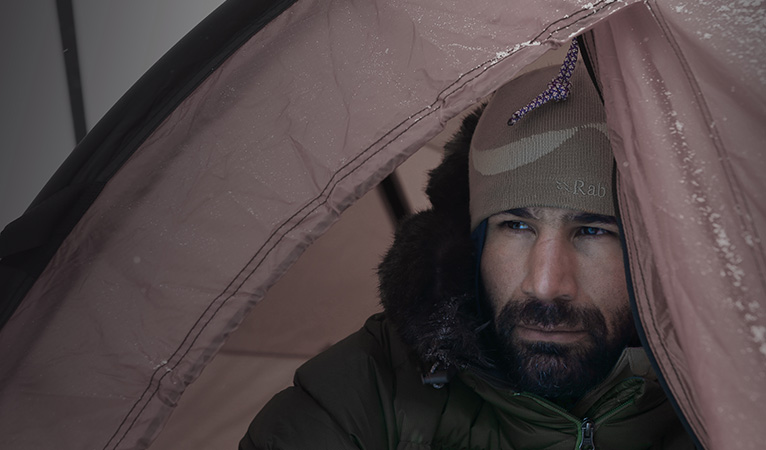 Hi Guys.  Yesterday, was a good day, had a good chat with Roy Noble in the morning on BBC Radio Wales and had good conditions throughout the day, which was nice after the poor day before.  Just had a good steady day.
Yesterday I got my first glimpse of the Theil Mountains in the distance, which was a significant milestone.  They are about 60 km away on my right and to the west.  It's a bit of shock to the senses, I haven't seen anything for so long it was weird to see them but cool.
Yesterday afternoon the temperature dropped significantly, not really sure why as the wind was consistent but pitching the tent was really hard work last night because it was so cold, my hands were really cold so it was great to get in the tent and last night I had Beef and Ale stew for dinner which was just awesome.
I am starting to feel hungrier during the day now, maybe I am getting to the point where I have used a lot of my fat reserves up or maybe it's just because I am getting tired (could be a bit of both).  However my Fuizion Food is absolutely amazing.  To get in the tent and rehydrate freeze-dried food, which has proper bits of stew and vegetables in and tastes amazing is absolutely awesome.  It's a real boost to morale as well because it's hard going during the day on flapjacks, soups, bars etc for 10 hours.  It's such a boost to get in the tent and have a proper dinner.
Admittedly the way my body is feeling I could eat about 40 of them, one after the other but the fine balance was always going to be between what I can actually carry, to what I eat.  I have to constantly fight my mind to stop wondering about food, meals and dinners.
Yesterday I skied for 9 and a half hours and covered 34km/21 miles/18.35 nautical miles.  I also skied in to the 85th degree.
Today I skied 9 and half hours and I had my biggest day yet covering 35km/21 miles/18.89 nautical miles.
Conditions were good, I had a very mild wind, great visibility, great conditions under foot it was just a generally good day.  I had a good meal last night and had Kedgeree for breakfast, which I love and is one of my favourites so I felt really good this morning setting off.  I am feeling positive, confident and my morale is high.  When you are on your own out here, moral and emotions play such a significant part in things.
Towards the end of the day I had a surreal optical illusion.  During the second half of the day it looked like there was a dark cloud on the horizon, which I was a little apprehensive about as I thought here we go again, thinking a weather system was arriving.  It turns out it wasn't a cloud and the optical illusion was actually the change of angle of the glacier reflecting differently to the bit I was on and it was actually a significant incline of the glacier.  I was torn, half of me was relieved that it wasn't bad weather and the other half was thinking I have to get up that!
The next 200km are a significant climb.  I am currently at 1,357m/4,452ft (which is almost 300 metres higher than Snowdon and about the same height as Ben Nevis).  From here until the plateau at about 88 degrees I have to climb 1500m. The Polar Plateau is at an average elevation of about 3,000 metres (9,800 ft).
There is really big sastrugi ahead of me in the 85th degree.  With the Thiel mountains on my right I have navigated to the west region of the sastrugi but I am expecting the next couple of days to be hitting significant sastrugi as all the reports from previous expeditions is that it is pretty big this year but I am not feeling daunted by it, I've got to get through it, so it's just a case of head down and arse up.
Back to food…I love Jelly Bellies, I take them on all my expeditions, and they are one of my snack foods.  Now I am beginning to feel a lot hungrier I have set myself a rule that I am only aloud to eat 2 jelly bellies at once.  It's a strict 2 at a time rule.  In one of my earlier blogs I said that I have eaten so many on different expeditions that I could guess the flavours, I am completely wrong I can't, haven't a clue!
A friend of mine wrote on Twitter today that she is missing my hashtags on Twitter so I've decided I am going to hashtag at the end of every blog.  My team read back some tweets tonight from family, friends and followers and messages from my Facebook page.  It really does make a difference so thank you for all your support and keep them coming.  It's awesome to hear them.  Speak to you tomorrow guys, hope you all have a top Tuesday.  Rich.
#chewingmyfoodmakesitlastlonger
Expedition total km/miles skied to date: 631.52km/392 miles.  
Expedition hours spent skiing to date: 177.25.