Antarctica Blog - Day 15 - New Year's Day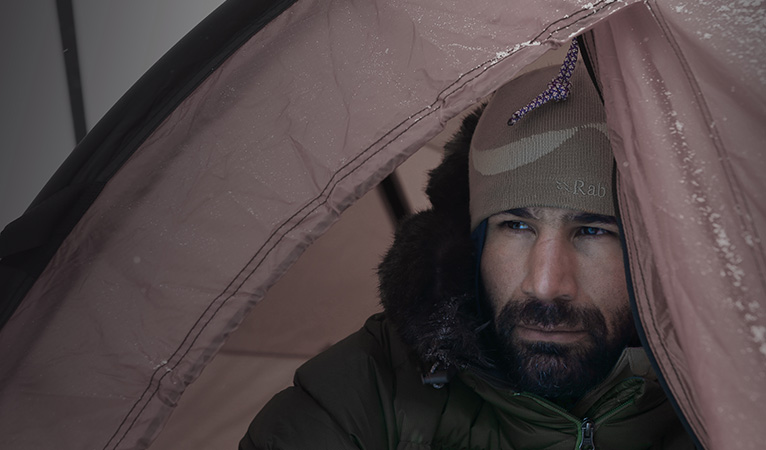 EVENING BLOG
Hi Guys.  I am absolutely boll*cksed.  It's been a wonderful and totally epic day but as I didn't blog last night I'll start with yesterday.  This sounds insane but I genuinely can't remember what happened yesterday, my focus is so much on one day at a time that I honestly can't remember but I do know that last night and this morning it was really tough being on my own, more so than Christmas Day.  I was really missing everyone back home.
I woke up early this morning to do a live phone call for BBC Radio Wales.  I was feeing a bit melancholy this morning and a bit down.
After the phone call and breakfast I set off in to a mild but moderate headwind.  The wind got harder and harder and colder so much so that towards the end of my first tab (2-hour stint of skiing) I had to change my gloves and put my facemask on.  I was making reasonable progress, but then during my second stint of skiing everything changed.
Maybe for the second hour of the first 2-hour tab (it's hard to say in terms of time) I could see dark clouds on the horizon, the weather systems come from the south and hit me head on and I knew I was about to Ski in to them.  It's hard to tell how quickly they will reach you or you will ski in to them because of the wind but around the start of my second 2-hour tab it suddenly went really dark, the clouds came over and within 5 minutes they broke the light and I had total flat light, I had no shadows and couldn't see anything.  The wind picked up and it was a lot colder and conditions went from flat light, then spin drift to white out and I think (I am not sure) it might have even been snow but it is really rare for it to snow in Antarctica.  I honestly don't know what it was, the conditions just changed really quick from flat to a white out to a crazy white out with a crazy headwind.
Progress was painfully slow.  I had nothing to navigate off and with no shadows, you don't even know what you are stepping on, you have to be so careful with every step, you don't want to fall and sprain your ankle or trip over your skis and you have no idea even if you are on sastrugi.
It went on for about 2 hours and I carried on painfully slow.  It was so bad I didn't break and just kept going.  Every step I just wanted to pull the plug and every step I was thinking this is just insane.  In the middle of all this I got vertigo, because I completely lost all the horizon and I felt like I was on a boat.  I had about half an hour of vertigo where I was like bambi on my skis thinking the ground was moving underneath me.
I just wanted to pull the plug every single step, my fingers got really cold, I had to change my gloves again, it was epic.  The only thing which kept me going was that it was New Year's Day and that I didn't want to sh*t out at the start of a New Year, I wanted to start 2013 strong.
When I looked at my GPS and realised I had done just 3km in 2 hours and just as I was about to pull the plug, and I thought sod this, this is actually insane, I saw a tiny speck of piercing blue in the distance.  I thought I would wait to see if it was the end of the weather system and seeing it gave me the confidence that I might ski through it.  The blue gradually got bigger and bigger.  I skied through it, still with a headwind but then it dropped, conditions were suddenly perfect and I had the most glorious afternoon, it was insane.
All I could think of was that it was an emotional purging for me.  In my mind I woke up feeling melancholy and then it was like this epic 2 and a half hours of my life, which was like a purging/clear out, and when the skies broke I had this huge rush of optimism, happiness, gratitude and joy it was like the start of a new year.  I had such an overwhelming feeling of joy.
Despite losing around 3 hours, in the afternoon I smashed it and I skied for 9 hours today and skied 33km/20 miles.  I climbed again today and I am now at 1,241m/4,071ft.
I am fu**ing knackered and absolutely bolloc*sed.  (Sorry for the swearing today, I am so tired).  The toughest day by far, but the most rewarding and a New Year's Day I will remember.  I was so happy to get in my tent.  It's cold today too.  For me -20c is a bit of a threshold.  Above -20c is comfortable but it was very cold today and feels below -20c.  Even in my tent now I am in my primaloft jacket.
I am shattered.  Sometimes mountains, the outdoors, nature, gives you an experience that just hits a little deeper than normal, that was one today it was an awesome experience.  It reaffirms my belief that we are all part of something bigger.
And to top it off tonight I have a non-spicy meal of spaghetti bolognese!! What a day.
Expedition total km/miles travelled to date: 440.32km/273 miles.