Antarctica Blog - Day 35 - 21st January 2013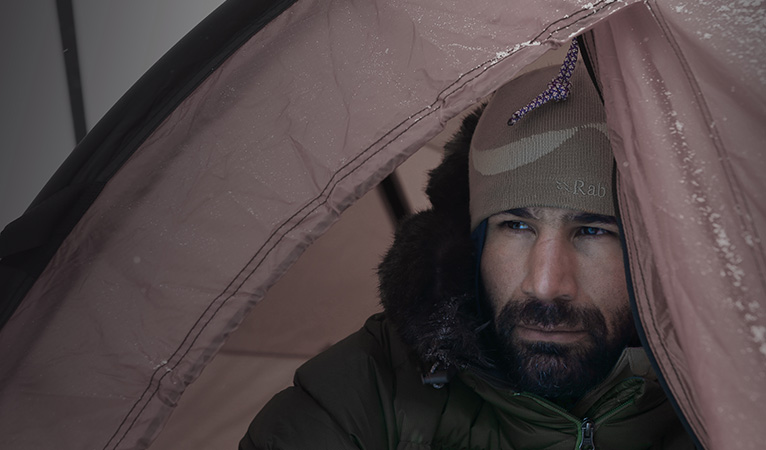 Hi Guys.  I am just sat in my tent sitting out some bad weather conditions.  Yesterday morning after I spoke to Roy Noble on the radio and blogged weather conditions were bad with completely flat light so I decided to sit it out for a few hours and wait for it to clear before I set off for the day.
That couple of hours turned in to a whole day and whilst I sat in my tent waiting I had waves of different emotions going through me.
Having made the difficult decision to organise a food drop, with that pressure off me I decided to have a couple of extra meals and rest up.  I was really grateful to give my body a chance to rest, as physically I am pretty tired over here.  That feeling would then turn in to despair and frustration of not being able to move but on the whole the day was used productively.  I waited for it to clear which it finally did about 11pm at night local time (Chilean time) and just as the rest of the world was tucking up and going to bed I was packing my tent up and getting into it.
I started skiing and immediately felt the benefit of a rest day, I felt really good, positive and strong and the weather broke for me in glorious fashion.  I was privileged to see a rare and special natural phenomenon, which only occurs in the Arctic and Antarctic where the ice crystals in the air reflect the sun's light in such a away that it creates a rainbow around the sun horizontally and vertically, it is absolutely beautiful.
With some extra energy in my legs and extra rice pudding in my belly I made some really good progress back up to my standard from earlier in the expedition, however the conditions were short lived and I only got 4½ hours of conditions that I could actually navigate in.  I covered 14.08km/8 miles.
So reluctantly and feeling gutted I had to quickly pitch my tent in very poor light, once again the light was so flat with no contrast that it was difficult again to pick a suitable spot between the sastrugi to pitch the tent.  It was really disappointing.
By the time I pitched it was about 5.30am in the morning but as per my new year's resolutions, I took satisfaction and joy for at least moving and got in to my bag, my sanctuary and hoped for a better day today and a food drop.
However once again Mistress Antarctica is making it difficult for me because I have been sat in my tent all day today unable to move.  To explain what I mean by bad conditions and flat light, in conditions like this where the light is completely flat you cannot see a horizon.  There is no contrast at all, you cannot see shadows and therefore it is impossible to move safely and accurately.
Today's delay has been a bit more difficult for me to deal with than yesterday.  Once again the fluctuation in morale has been caused by the conditions which are now also making the food drop impossible and the forecast is suggesting that it might be a couple of days yet.  All this combined with my dwindling food rations and the more significant factor that the last flight of the season off the pole is on the 28th January is making me feel anxious.
Once again I am taking the opportunity to rest and prepare to move as soon as the conditions improve.
It's been a tough week now but this is the nature of performing in extreme environments.  My focus is to make the right decisions at that right times no matter how frustrating they are to me.
Thank you for all your messages of support, I just got sent loads of them to my phone from my team today and they sincerely and genuinely make a huge difference out here.  I hear you guys are having a tough time of it too weather wise!
Speak soon guys, Rich.
#frustrated
Expedition total km/miles skied to date: 938.41km/583 miles.  
Expedition hours spent skiing to date: 279.95.